Super Hexagon Makes Its Way To BlackBerry 10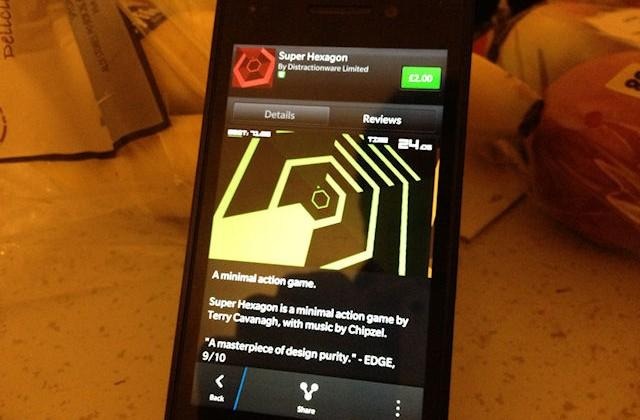 Here's something we weren't expecting, at least not this soon. Terry Cavanagh, the developer behind VVVVVV and Super Hexagon, has brought his newest creation to BlackBerry's newest platform. In other words, Super Hexagon is now available from BlackBerry World for BlackBerry 10 devices (only the BlackBerry Z10 at this point).
Cavanagh said that a BlackBerry 10 port actually wasn't something he had originally lined up, but a friend who helped port the game to Android wanted to do the same for BlackBerry 10, as he maintains the unofficial Blackberry port of openFrameworks. Cavanagh had no qualms of porting the game to yet another device and decided to give it a shot.
Cavanagh also says that a BlackBerry tablet version of the game (read: PlayBook) may come along eventually, but there's no guarantees. In the meantime, Z10 owners in the UK and Canada can grab the game for $2.99. Users in the US will sadly have to wait until March to get their hands on a new Z10, but that's just right around the corner.
If you're not familiar with Super Hexagon, it's essentially an action game that has you guiding a small cursor through gaps that appear randomly from six sides (hence "Hexagon"), but you have to act quick, since the barriers come at you pretty fast. Just like with VVVVVV, the game is meant to be an incredible challenge. It's currently available for iOS, Android, Windows, Mac, and of course, BlackBerry 10.