Subaru wins 2012 Los Angeles Auto Show Design Competition with SHARC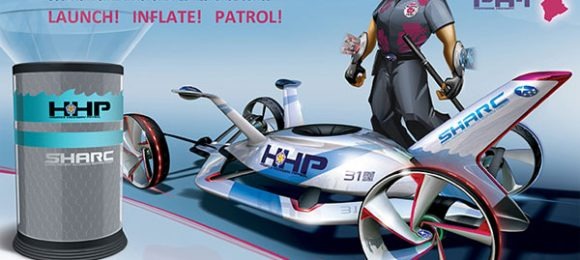 Each year at the Los Angeles Auto Show, a Design Challenge is held. The Design Challenge is a competition between major automotive manufacturers to design a vehicle based on a specific concept. At this year's Design Challenge six different major automakers offered design concepts for a futuristic 24-hour highway monitoring system for the Highway Patrol.
Subaru walked away with the win in the Design Competition with a concept called the SHARC. The Subaru design concept is an unmanned drone capable of operating on the land and in the air that is designed to operate on renewable resource fuels and has a topographical scanner integrated. The design concept operates autonomously eliminating the need for a large staff of officers.
All concepts submitted in the competition had to meet the strict Hawaii carbon-neutral environmental regulations. The Subaru concept has four wheels each with their own electric motors. The wheels and tires themselves can turn into rotors allowing for air operations.
The design concept also shows a wearable remote control system allowing officers to control the vehicles when needed. One of the more interesting features of the SHARC is that vehicle is inflatable rather than being a rigid frame vehicle.