Studio19 Solo E500X-EQ Review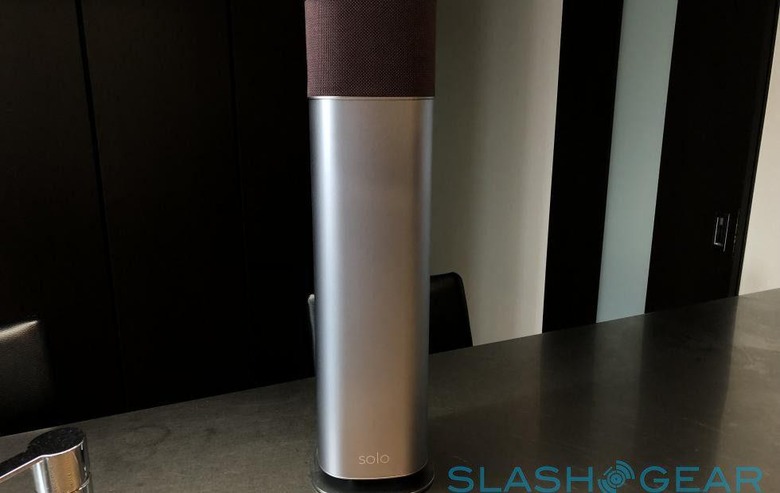 EDITORS' RATING: 6/10
Although Bluetooth speakers aren't exactly new or novel, the rise of smart assistants and the depreciation of the venerable headphone jack have put them under a sometimes harsh spotlight. No longer was it enough for them to "just work", they needed to sound great, look great, and still be affordable to the masses. Often, two or even three of these pillars go missing for the sake of the others. Studio19 has attempted to offer that trifecta of qualities in the Solo E500X-EQ. We give it a closer look and listen to find out if it is truly that balanced or if it falls short on one of its legs.
Design
There is no mistaking that the Solo E500X-EQ is one of the most visually interesting portable Bluetooth speakers in the market. "Interesting" here, however, may mean different things to different people. To some, the speaker looks like a miniature outdoor ashtray. One that seemingly levitates when you turn on the bottom LED lights. You definitely can't fault the Solo E500X EQ for having no character.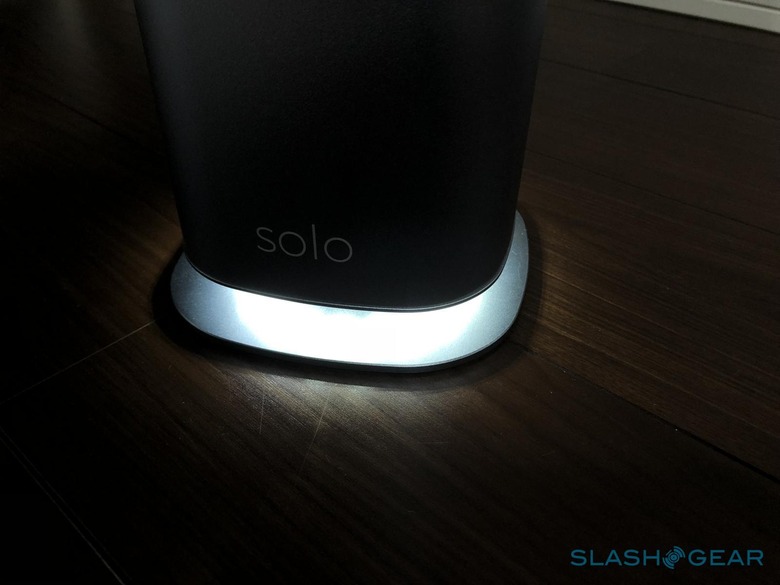 You can fault it, however, for its placement of controls and ports. The main body of the speaker, which takes the shape of a square-ish tube, is made of brushed aluminum, in Gold or Space Gray color. On top of that sits the actual speaker grille, which houses all of the aforementioned control. All of them. Right on the very top are the power, mode, source, and light buttons shoved to the side of physical equalizer sliders, admittedly an unexpected feature on a Bluetooth speaker. But hiding at the back of the grille are the HDMI port, two 3.5 mm ports for audio in and out, respectively, and the USB-C power port.
That last part is probably what mars the design of the E500X-EQ the most. Imagine a premium-looking speaker with a power cord jutting out from the top. While the speaker will indeed look well in almost any home setting, theme, or decor, you will have to take great care to hide that cord from sight.
A minor nitpick is that while the speaker is indeed advertised to be portable, you might not want to go beyond moving it around the house. There is no water resistance to speak of so you'll have to take extra care where you use or place it. Its internal rechargeable battery yielded 8.5 hours of playback on medium volume while outdoors, but its 3.5 kg weight and the plastic equalizer buttons on top doesn't exactly make it an easy carry.
Sound
The Solo E500X-EQ is loud. Very loud. Everything Studio19 advertises about it, from the Dual Pressure Air Compression to the Enhanced 360-degree Optimized Sound to the Advanced DSP, you're definitely going to hear it and feel it too. Careful where you put the speaker because it is going to make things shake.
Unfortunately, that also hints at its flaw. The E500X EQ definitely has some great bass but it starts to fail on mids and highs. This gives the speakers an overall harsh output that will probably make your ears bleed if you listen more to music loaded with vocals and instrumentals. As such, we can't really give it an A when it comes to faithfully and clearly reproduce audio.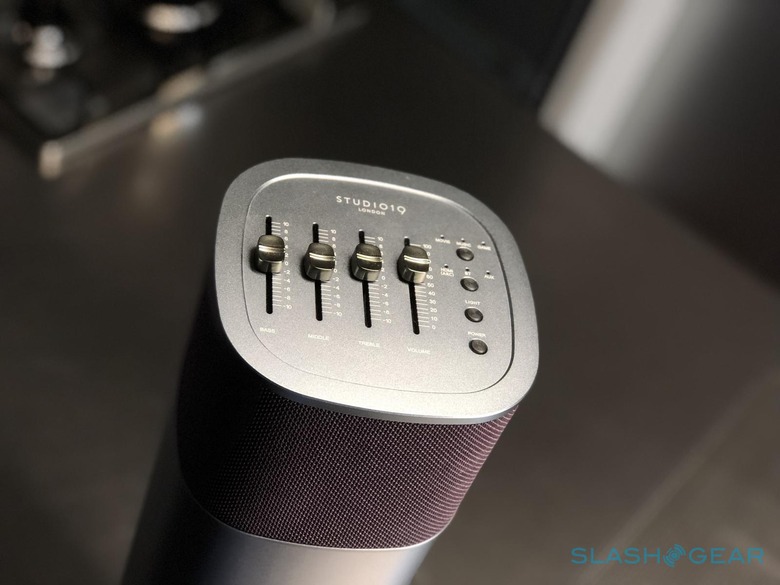 One way the speaker makes up for that is the fact that you can at least adjust the levels to your liking. While it does have preset modes for Movie, Music, and Gaming, you can further fine-tune Bass, Middle, and Treble. These are just small tweaks, mind, that try to mask its defects.
Price
The Solo E500X-EQ is not an inexpensive speaker, no doubt about that. At 399 GBP/$570, it easily surpasses many premium wireless speakers, like, say, the Apple HomePod. But while other expensive speakers try to justify the cost with features, it's hard to turn a blind eye to what this speaker doesn't have: Wi-Fi.
The E500X-EQ is purely a Bluetooth speaker. You can, indeed, pair it with another expensive E500X EQ to automatically create left/right stereo channels but that doesn't work in one configuration which may matter the most.
You can use the speaker as your TV's fancy new speaker and, with its loud bass, you won't need a subwoofer to go along with it. You do that by connecting the TV and the speaker via HDMI port. Once you do that, however, you lose access to the "True Wireless Stereo" previously mentioned. You can't have the best of both worlds.
Without Wi-Fi connectivity and the lack of an app to control the speaker from a distance, the E500X-EQ stands out from its peers in more than just looks but also in lacking some expected features at that price point.
Wrap-up
Studio19 bills the Solo E500X-EQ as a portable premium speaker with no compromise. If you can be a bit forgiving, it does mostly deliver on that. The design is unique and eye-catching, the sound is loud even if a bit bass-heavy, and the long battery life does make it useful when far away from a power source. Plus, the physical equalizer is definitely a nice personal touch.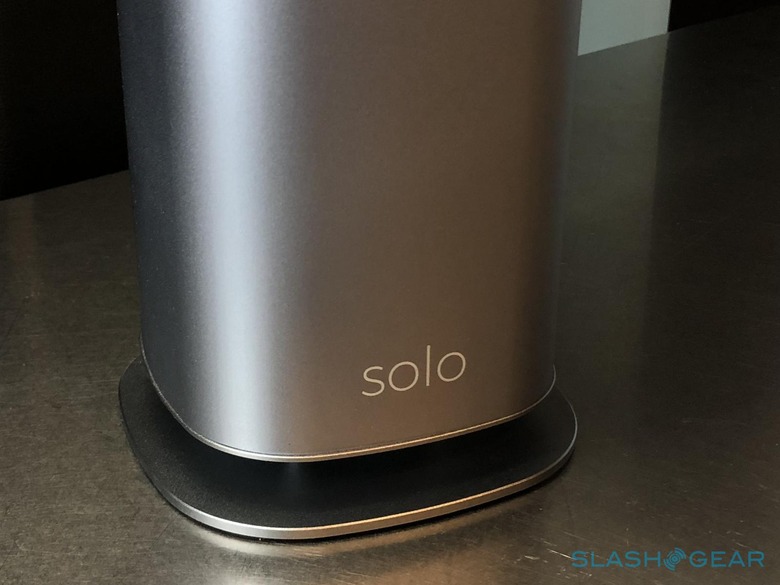 But the E500X-EQ is also rife with compromises. Ports are near the top to give it that floating illusion when the lights are on. Water resistance is ignored for the sake of having sliders and buttons. And Wi-Fi is left out because, well, there was an Indiegogo for a Solo Extreme that had exactly that feature for, surprisingly, less. So while the Studio19 Solo E500X-EQ definitely checks off the boxes, for a $570 speaker, you can't be blamed for expecting more.