Street Fighter 5 is getting fan-favorite Blanka next week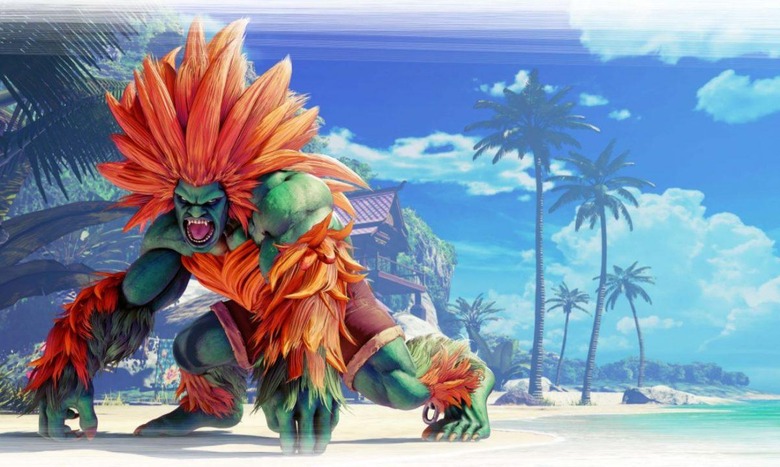 The Street Fighter series has no lack of recognizable characters, but perhaps one of the most famous is Blanka. Sure, he might not have the followings that series regulars like Ryu and Chun-Li have, but you'd be hard pressed to find even a casual fighting game fan who can't identify Blanka on sight. With that kind of notoriety, it was only a matter of time before Blanka made his way to Street Fighter 5: Arcade Edition, and today Capcom revealed just when that will be.
In a post over to the Capcom-Unity blog, the company reveals that Blanka will arrive in Street Fighter 5: Arcade Edition next week, on February 20. This announcement isn't a total surprise, as we've known that Blanka was on the way ever since Season 3 was first announced. We didn't have a specific release date until today, however, and it turns out that it's closer than many of us probably expected.
Blanka, defined by his green skin and orange hair, is getting a bit of a makeover for his appearance in Street Fighter 5: Arcade Edition. He now looks more feral than he did before, and he's sporting quite a bit more hair. His quirks are still the same, as he's still green and he can still discharge electricity.
You can get a primer on some of Blanka's Street Fighter 5 abilities by watching the trailer above. One interesting thing to note is that Blanka's V-Skill actually doubles as both an attack and a dodge, so you can avoid enemy projectiles and then immediately counter your opponent. His critical art has him curling up into an electric ball and rolling over enemies, because honestly we wouldn't have it any other way.
Blanka also comes with three different skins, one of which is a nostalgia skin that looks like the character many of us remember from earlier Street Fighter games. You'll be able to buy Blanka as part of the Season 3 character pass for $29.99, as a standalone character for $5.99, or with 100,000 Fight Money when he launches on February 20.