Steve McQueen cars to hit auction block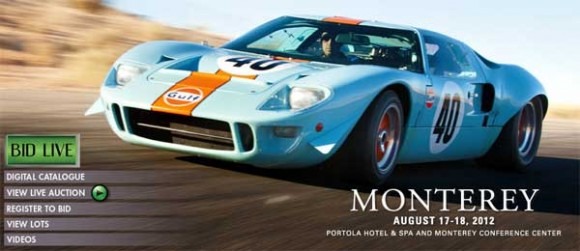 In the world of cars, some of the most expensive vehicles in history are those that were owned by famous actors or those cars that have a racing pedigree that can be traced. When you combine the fact that the car was owned by a famous actor and has a history behind it, the vehicles are worth even more money. An auction is set for August 17 and 18th in Monterey, California that will see some cars tied to famous actor Steve McQueen go up for sale.
One of McQueen's most popular films was called Le Mans, and the auction being conducted by
has several vehicles that are classics in their own right and also happen to be used in the film. One of the cars going up for auction is a 1968 Ford GT40 Gulf/Mirage Lightweight Racing Car. This car was leased by the McQueen's production company Solar Productions in 1970.
The GT40 race car was used as the camera car in Steve McQueen's racing film Le Mans. Another vehicle used in that film is also up for auction and is an 1956 Fiat Series 306/s Grand Prix Transporter. The vehicle was originally commissioned by the Maserati Grand Prix team and was used by two famous race teams during its functional life, including Carol Shelby and Lance Reventlow's teams.
That particular car hauler was used in the film as the team transporter for Ferrari, Renault/Mirage, and Porsche. Other cars in the auction tied to Steve McQueen included 1961 Cooper T-56 Mark II Formula Junior Racing Car owned and raced by the Mc in California in 1962. Another McQueen vehicle is an unrestored, and well-documented, 1953 Hudson Hornet Sedan. Another movie car included the auction is an exceptionally rare 1956 Ferrari 250 GT LWB Berlinetta 14-louver 'Tour de France' used in the 1966 movie The Love Bug. That particular car is the first Tour de France out of nine built. The auction will also include a 1965 Shelby 427 Competition Cobra that appeared in the film Grand Prix with James Garner.