"Stella" is first solar-powered family car, will race in World Solar Challenge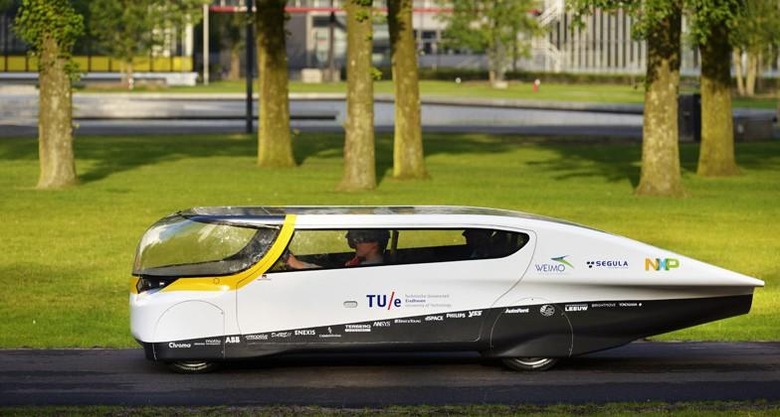 Students at the Eindhoven University of Technology have developed a solar-powered car they call "Stella," which is claimed to be the first-ever family car that runs off the sun. The vehicle is designed to seat four individuals, and utilizes power drawn from the sun via solar panels that are located on its roof. We have a video of it in action after the break.
As you can see in the image above, the car is very long, as well as short in terms of roof height, tapering down to a thin tail for aerodynamics. According to the students who created it, Stella is capable of traveling up to a distance of 600 kilometers, something that will be put to the test in Australia's World Solar Challenge, which is a 3,000 kilometer race that starts in Darwin and goes all the way to Adelaide.
Stella is racing under the Cruiser Class category, which is a new addition to the event this year. For the new category, the solar car will be competing under different requirements than the other cars in the race, aiming for both usability and comfortable. As part of the category's regulations, Stella will need to transport a passenger in addition to the driver for the duration of the race.
Said Solar Team Eindhoven: "The design of the car of the future has to meet the needs of modern consumers. The car must be capable of transporting a family from the Netherlands to France in one day, it needs to be suitable for the daily commute to work, and it needs to achieve all this in comfort. Since Solar Team Eindhoven wants to contribute to the development of a car of the future, the design demands more than just a focus on speed. Comfort, ease of use, and feasibility are all key terms."
The car is made of both carbon and aluminium, and offers a dashboard composed of a touchscreen panel, eschewing typical button conventions. The steering wheel is said to also be unique, contracting and expanding depending on the speed the car is traveling at. As for the race itself, it will take place from October 6th to 13th.
SOURCE: Dezeen