Steam may discount bundles, based on the games you already own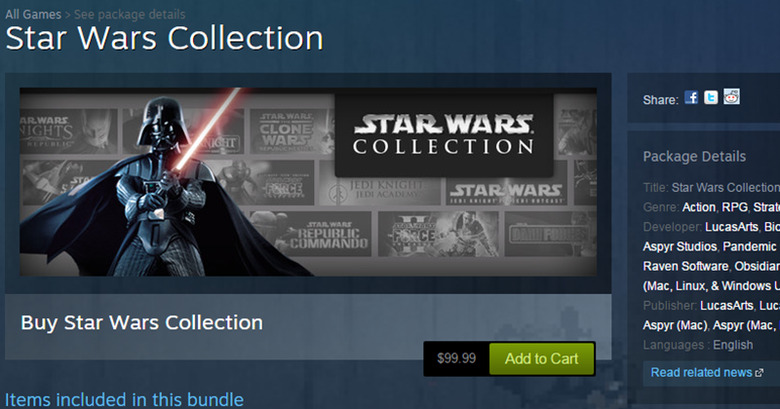 Bundles are a great way to save money when you're buying games. Sometimes you'll find a deal that will put three our four games together for the price of one. But what about those times when you already own the game? If you're buying from Steam, this means that you won't get a spare key for the game you already own. Instead, you just miss out on that part of the deal. But that may be changing soon.
When you've been picking over the various Steam sales over the years, your library can start to look pretty big. And the more games you buy, the less appealing a bundle will look, as you may already own one or more of the titles. However, Valve is always looking for new ways to win over customers (except by hiring more Customer Support staff), and so it would seem that they want to reward gamers that already own a lot of games.
According to a leaked document recieved by PCGN, Valve wants to stop charging customers for games that they already own, when purchased in a bundle. Their official explanation for why is below:
"With Steam Bundles, if a customer already [owns] some items in the Bundle, they will pay for and receive only the items not already in their account. This allows the best fans of your series or franchise to 'complete the set' and get a deal on the remaining items in the Bundle."
Now, it's hard to say exactly how Valve will factor in the price of each game that you already own. My guess is that they will assign a specific percentage savings on each game, and use that to discount your bundle price.
Personally, I'm excited to hear this news. There have been more than a few bundles that I've passed on, simply because the discount wasn't that great, when I accounted for the games I already owned. Granted, I've not been able to dig up any solid information on this, so I'm classifying it as just a rumor. We've reached out to Valve for comment, and I'll update the article if we hear back.
VIA: PCGN