Steam holiday sale launches with deals galore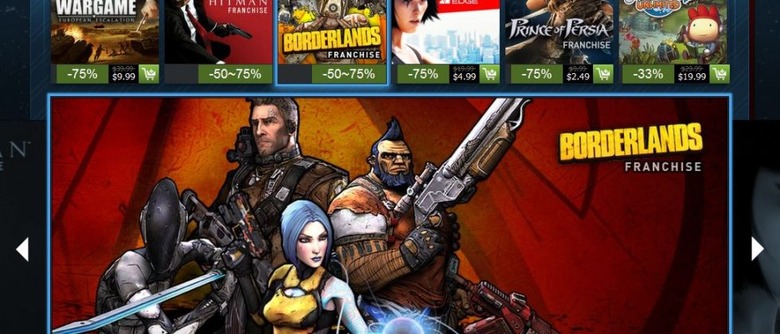 Just in case you didn't get all of the deals you wanted during the Steam autumn sale, the much-loved holiday sale launched today, offering all sorts of discounts across Steam's entire catalog. There are six featured deals on tap for today, including discounts on the Prince of Persia franchise, the Borderlands franchise, the Hitman franchise, Mirror's Edge, Scribblenauts Unlimited, and Wargame: European Escalation. All of those titles are 50-75% off, with the sole exception of Scribblenauts Unlimited, which is only 33% off.
That's a great way to start the sale, but of course there are plenty of other discounts to take advantage of. These include flash deals, which at the time of this writing are offering discounts on games like Batman: Arkham City Game of the Year Edition, Operation Flashpoint Red River, and Fable III. Before long, community choice deals will begin appearing as well, with players being asked to vote on Braid, Limbo, or The Secret of Monkey Island: Special Edition at the moment.
Like the holiday sales before this one, there are also sales on publisher catalogs. If you're more of an indie gamer, there's a hub dedicated to deals on indie games, with Steam even offering a huge indie game bundle. This bundle, dubbed the "Indie Super Mega Pack," brings together 30 games for $70, including such gems as Bastion, Legend of Grimrock, and Hotline Miami.
So, it would seem that the Steam holiday sale is off to an excellent start. The sale is going to run through January 5, so there are quite a few days left to go. Expect plenty of excellent featured deals, flash sales, and empty bank accounts between now and then. Are you ready to go nuts on some gaming deals?