Stary electric skateboard promises over 18 miles per charge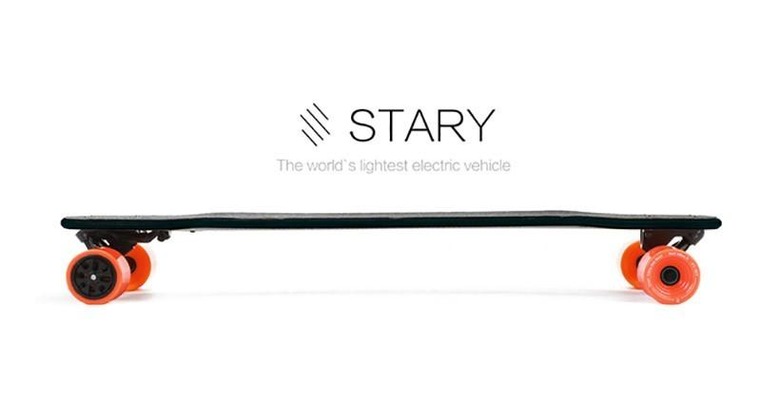 We have seen electric skateboards in the past that have battery packs and motors to get the rider around town for work or fun. A new electric skateboard has turned up that is very different called Stary. What makes Stary so different is that it has no motor or battery inside. That makes it the lightest electric skateboard in the world.
Stary weighs in at 8.6 pounds and can cruise along at up to 18.6mph. Stary claims to be able to go ten miles on a single charge. The motor that powers the skateboard is inside the wheels. Those motors use planetary gearing with a high reduction ratio giving the skateboard enough power to go up inclines.
Stary claims to be easier to learn to ride than a normal skateboard. It is controlled with a wireless device you hold in your hand; you tilt the controller forward or backwards to move in either direction. The Stary also uses regenerative braking to charge batteries.
Stary is on Kickstarter now seeking $100,000 and has raised over $149,000 so far with 23 days to go. A Stary skateboard will set you back $499, which is $400 less than the retail price. Shipping is expected in November.
SOURCE: Kickstarter