StarTech's New Dual-Slot SD Reader Transfers Data Between Cards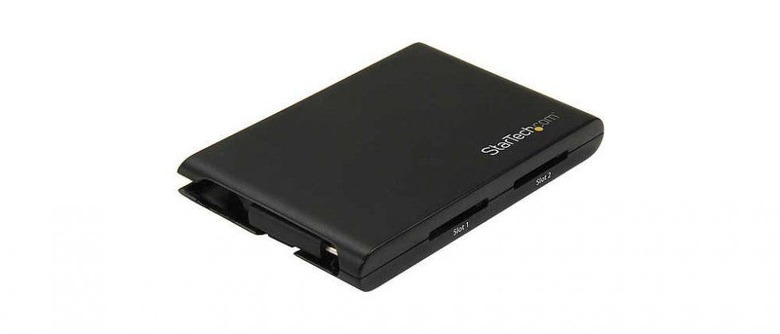 StarTech has introduced a new SD card reader that'll make life easier for photographers and others who frequently use these media cards. The dual-slot card reader — which is being offered in USB-C and USB 3.0 varieties — makes it easy to write content to two cards at once, to access content from two cards at once, and to transfer content between the two cards. The reader has a built-in cable, as well, eliminating the need to carry one around.
The StarTech reader model 2SD4FCRU3C features a USB-C cable for things like the new MacBook Pros, Dell's XPS 12, and some other devices. The model 2SD4FCRU3, meanwhile, features a USB 3.0 (Type-A) cable, which is compatible with most laptops and many tablets on the market. The reader supports SD, SDHC, and SDXC cards type — two different types can be used at the same time.
Furthermore, the StarTech SD card reader supports SD 4.0 and Ultra High Speed (UHS) II cards, and is backwards compatible with the older varieties. The card reader is plug-and-play, says the company, so there's no need to install drivers or software. The device can also be used with USB 1.1 and USB 2.0 ports.
High-speed transfers speeds can reach 312MB/s for UHS-II and SD 4.0 cards, though it'll be slower if you use older cards or slow USB ports. The card reader is available now from Amazon in the US and UK for about $40, as well as some select other retailers like Insight.
SOURCE: PhotographyBLOG