Start the new year right with these apps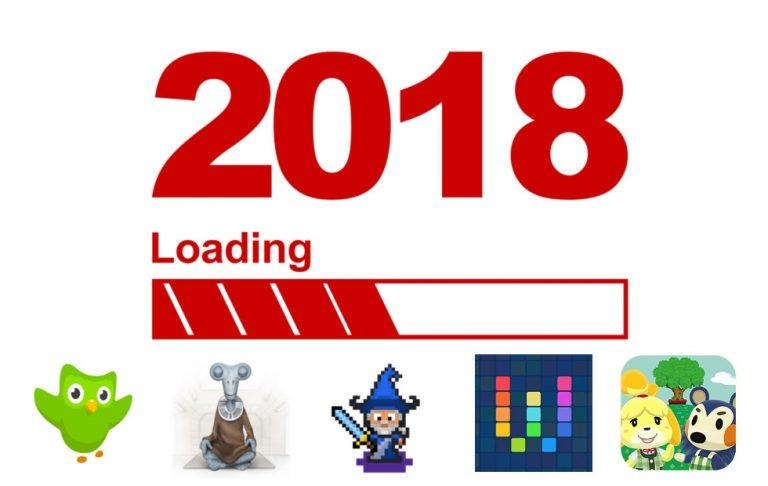 It's that time of year again when people look back at the past 365 or so days and take stock of what has transpired and what didn't. It's also that time when people take advantage of the changing of the year to plan for the next 365. Whether your make big lifestyle changes or taking baby steps towards a new direction, these days there is almost always an app for that. In fact, there might be dozens of apps for that, whatever "that" is. To help you get started on that path to discovery and a better 2018, here are some of our top picks to turn your smartphone or tablet into your adventure buddy.
1. Learn new language: Duolingo
It's never too late to teach an old dog new tricks. Especially when the old dog is not really that old. Young or not, learning a new language need not involve sitting inside classrooms or paying premium to sit inside one. Sure, there are benefits to learning with peers, but that's a luxury few can afford.
Fortunately, there's Duolingo. More than just your rote memorization language learning method, Duolingo carefully studies and presents an effective way to learn a new language, with carefully timed lessons and exercises. Duolingo just added Chinese, one of the most difficult languages in the world to learn. So if you're looking to having something to learn over the course of a few months next year, why not let it be a world
Download: Duolingo (Google Play Store) (Apple App Store)
2. Learn to Draw Superhumans
Everyone can draw. Don't believe it? Check out this 15-minute TEDx talk by Graham Shaw to change the way you see the world of drawing.
If you're already a believer and want to take it to the next level, guess what, there's an app for that! Considering how superheroes and superheroines (sometimes even supervillains, too) have come back in fashion, that might be a good place to start as anyway. And, again, there are tons of learning resources out there, but you need not go far. Marvel artist Will Sliney's Learn How to Draw app can whet your appetite with its regularly updated selection of tutorials and nuggets of knowledge.
Bonus Round: Clip Studio Paint (iPads only) Learning to draw comics is one thing. Actually making them on your mobile device is another. If you're one of the few iPad owners in the world, then you're in luck! One of the most popular software on desktops is available on iPads. Granted, Clip Studio Paint's $8.99 monthly subscription is going to bite, but artists swear by it. And you can try it out for free for 6 months. For a completely free but very competitive alternative, there's always Medibang Paint.
Download: Learn How to Draw (Google Play Store), Clip Studio Paint (Apple App Store)
3. Develop new habits: Habitica
Whether it's learning something new or learning to curb your sweet tooth, the new year is often used as an auspicious time to promise to start fresh and make a better you. Most, of course, fail within the first quarter and for various reasons. Sometimes, those reasons can be as simple as lacking the inspiration or the right tool to track your progress.
Part habit tracker and part RPG, Habitica, formerly HabitRPG, takes the lessons of psychology and makes them interesting. Don't worry, there are no addictive elements that will milk your bank account dry. There are, however, addictive elements that could turn you into that productivity ninja you've always dreamed you'd become.

Download: Habitica (Google Play Store) (Apple App Store)
4. Get healthy: 7-minute workout
Many productivity-obsessed individuals charge into life head on and with all their energy. They often neglect the needs of their bodies, causing them to crash and burn sooner. Failing to attend to our physical needs is a sure-fire way to be unproductive. So as counter-intuitive as it may sound, the path to productivity and success requires setting aside some down time as well as some time to keep your body within operating conditions.
You don't need to enroll in a gym or in a training program just for that, though that will definitely help kick things into gear. You don't even need to buy new equipment and build your own home fitness center. Everything you need is pretty much within reach. Including apps that can give you some guidance. All you need is seven minutes a day. Sure, you're not going to be a Greek god even after months, but the point is not really to build a great bod but to keep your body from keeling over. Who knows? Maybe it will actually serve as motivation to do even more.
Download: J&J 7-Minute Workout (Google Play Store) (Apple App Store)
5. Take control of your life: Zenkit
And now we finally come to the "actual" productivity tool. No it's not yet another ToDo list app, or another calendar app, or another kanban app. It's all of the above and more. Zenkit is a rather new and sometimes dizzying way of looking at making notes, making plans, and everything in between.
In a nutshell, Zenkit is a database-like application that presents that data in different views, depending on your mode or your mood. It can put them in a flat list like Todoist, in a calendar like Sunrise, in a kanban board like Trello, or even a mind map like MindNode. You no longer need to have separate apps to work on the same pieces of information. You just need to switch views.
Zenkit's mobile apps are still a work in progress and only represents a fraction of what the web app can do. But when you're on the go and in a rush, that might be all that you need.
Download: Zenkit (Google Plmodern-daya>) (Apple App Store)
6. Automate your life: IFTTT/Workflow/Tasker
One of the tenets of modern day productivity is to automate anything that doesn't need your active attention and thinking. Thanks to the power of technology and human ingenuity, many of those can be accomplished using nothing but our smartphones. The time we spent on our phones often consume our entire day. Especially for repeated tasks that can be left to the smart brains inside our smartphones.
Fortunately, there are plenty of ways to keep such rote tasks from eating up our time. iOS has Workflow and Android has Tasker. The Web, and both those mobile platforms, also have IFTTT. As our homes themselves become smarter, thanks to the so-called Internet of Things, automation will become an even bigger and more common part of our modern, digital lifestyles.
Download: IFTT (Google Play Store) (Apple App Store), Workflow (Apple App Store), Tasker (Google Play Store)
7. Have fun!
Perhaps the most important productivity advice of all is to intentionally set aside time to not be productive. If machines need some downtime for some R&R (repair and recharge), how much more feeble humans? Fortunately, our mobile devices are chock-full of goodies that can keep us distracted for a little while. Yes, we mean games. And no, not those obnoxious money grabs disguised as entertainment.
Feel the need for some furry friends? Why not give Animal Crossing: Pocket Camp a go? Feel the need to roll over anything and everything? Katamari Damacy's insanity has rolled out into mobile as an endless runner. Want to relive the good old days of gaming? Pick any of Sega Forever's oldies or immerse yourself in a good, old-fashioned D&D campaign. Whatever your passion or your taste, there's a game for that. Just be careful not to turn those games into your life.
Wrap-up
Smartphones are often demonized as the lackey of distraction and the arch-nemesis of productivity. To some extent, that might be true. But just like a mighty sword of power, these devices can cut both ways. With the right tools, these devices can cut through procrastination, demotivation, and confusion. But, as always, part of the responsibility falls on the bearer.
It's dangerous to go alone. Take these apps with you and bravely face 2018!