Starfish Smartwatch To Debut At MacWorld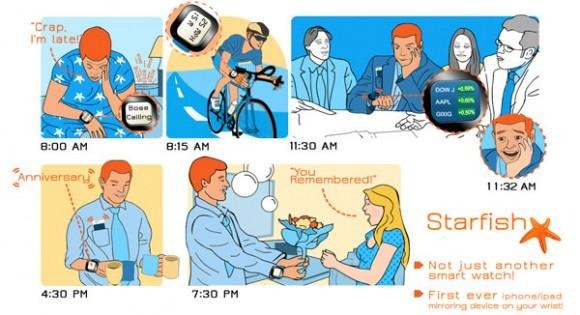 There are a number of smartwatches on the market that promise to interface with smartphones and perform various other tasks. A company called Starfish Technologies is set to unveil a new smart watch specifically designed for the iPhone, iPad, and Android user at MacWorld kicking off tomorrow. The watch is called the Starfish.
The company isn't offering up a lot of detail on hardware ahead of the official unveil during the MacWorld conference. What we do know is that the company is promising the world's first truly interactive iPhone and Android compatible smartwatch. The company claims that the watch is the result of patent pending technology that allows it to communicate with the iPhone, iPad, or Android devices.
The watch promises interactive features and feedback that are unavailable in any other smartwatch. It appears that the majority of interactivity with the watch has to do with mirroring alerts and other information from the screen of your smartphone or other device. The watch will offer updates and alerts for incoming calls, text messages, e-mail, reminders, whether, breaking news, and stock market updates.
The Starfish watch also promises to allow you to answer calls, open text messages and e-mails, and access your music library. It will also run GPS or any other apps and has an integrated compass and G sensor. Those sensors allow the watch to gather information during workouts. The watch promises to last 24 hours per charge and there will be an SDK and API allowing users to create apps for the watch. The Starfish Smartwatch will sell for $169.
[via Getstarfish.com]