Stardew Valley PC update 1.4 dated and detailed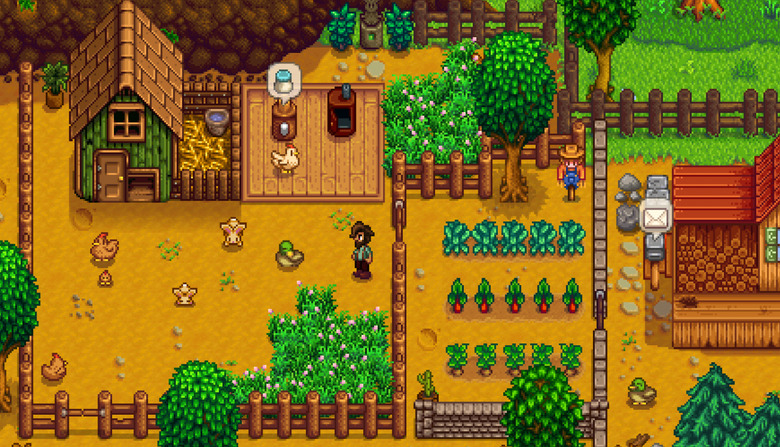 Nearly four years after release, Stardew Valley seems to still be going strong. The game's creator, Eric "ConcernedApe" Barone has been working on a new update for Stardew Valley for quite some time, and now he's announced when it will land on PC. Bringing the game to version 1.4, Barone says that this update will add the layer of polish he's wanted from the beginning.
"What I mean by that is that I wanted to fix all the bugs that have been lingering in the game, to fix a lot of weird or annoying things about the controls & feel of the game, and add in a lot of 'quality of life' features that will make the game more seamless to play," Barone wrote on the Stardew Valley developer blog. "I feel pretty confident that this goal has been met!"
Version 1.4 isn't just about polish, though, as it sounds like it'll also add a lot of content to the game. Barone says that in terms of content, "nearly every aspect of the game has been expanded or improved upon in some way." One example Barone gives concerns improvements to Wild Bait, which now has a chance to catch double fish.
Barone also says that every spouse in the game now has a special 14-heart event that can only be unlocked after marrying them, so that should give longtime players a reason to start a new save file and court someone new. In addition to that stuff, there's also new end-game content that Barone isn't speaking about right now, along with a screenshot button that allows you to capture an image of your entire farm.
So, it looks like we'll have to wait until the update is actually out before we learn about all of the new content contained within, but happily, the wait won't be an extended one. Barone says that version 1.4 will land on PC on November 26th. There's no release date for the console and mobile versions of this update, but Barone says that he hopes their release will trail the PC launch by only a few weeks.