Stardew Valley Brings Its Unique Brand Of Chill To iOS Today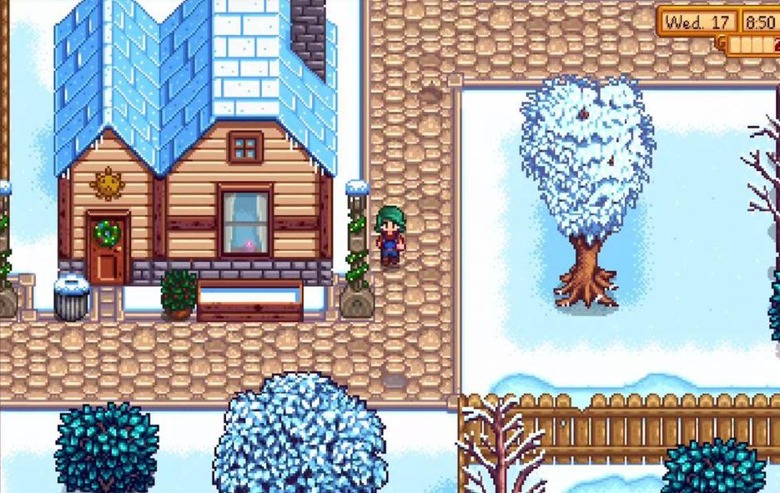 If you happen to be in the market for a new phone game and you're playing on iOS, then today is your lucky day. As revealed earlier this month, Stardew Valley arrives on iOS today, bringing its relaxing gameplay to mobile devices for the first time (unless, of course, you count the Nintendo Switch as a mobile device). If you're looking for a game you can sink your teeth into, Stardew Valley is definitely it.
Stardew Valley initially appeared on PC back in 2016, and was the passion project of one man named Eric Barone, who goes by ConcernedApe online. The game took him years to develop, and it can be seen as a love letter to the original Harvest Moon. Luckily for Barone, all the time he spent on developing Stardew Valley paid off, as it was an immediate success pretty much as soon as it launched.
Over the past couple of years, Stardew Valley has made its way to a variety of different platform. It landed on Xbox One and PlayStation 4 late in 2016, then arriving on Nintendo Switch almost a year ago. With the launch on iOS now complete, there's only Android left to tackle, and that launch is coming up at some point in the future.
It seems that Stardew Valley on iOS is the complete version that's available on other platforms, save for one component. Though the game's App Store listing says that it contains all of the single player content from Stardew Valley's somewhat recent 1.3 update, multiplayer is unavailable. It's unknown if multiplayer will ever be something that gets added to the mobile version of Stardew Valley – it's been confirmed for all of the console versions, with the Switch slated to get it first.
If you've already invested a ton of hours into Stardew Valley on PC, the good news is that you can even transfer your save over to the iOS version through iTunes. If Stardew Valley's chill take on running a farm is something that sounds like what you're looking for, you can snag it today from the iOS App Store for $7.99 [download].