Star Wars: The Old Republic gets new Galactic Starfighter expansion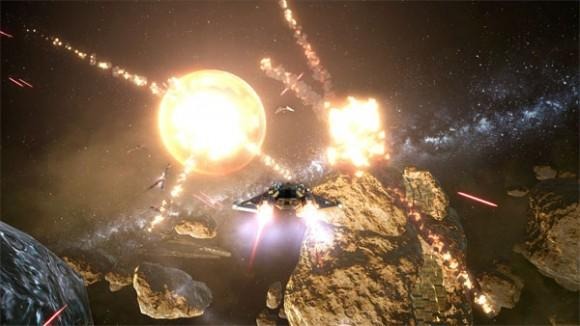 EA and BioWare announced the latest expansion pack for the video game Star Wars: The Old Republic. The new expansion pack is called Galactic Starfighter and it allows players to enjoy space combat inside your very own customizable fighter spacecraft. The Galactic Starfighter expansion adds new PvP combat options that free to play players will be able to enjoy.
Galactic Starfighter adds 12v12 space battles for the first time. Currently active subscribers to The Old Republic will be offered early access to the digital expansion pack starting on December 3. Preferred Status Players will be allowed access to Galactic Starfighter on January 14.
The expansion pack will be offered as free to play content starting on February 4. The game went free to play back in November of 2012. Active subscribers as of November 1 will receive an exclusive Galactic Starfighter early gunship unlock and custom gunship paint jobs. Only subscribers will get the maximum leveling and progression benefit available in the expansion pack.
Subscribers also get some early access awards including titles Test Pilot and First Galactic Starfighter titles, two pilot suits, and exclusive paint jobs. Preferred status players will receive the exclusive title Test Pilot, two pilot suits, and the title Test Pilot. Players will be able to extensively customize their gunships with new paint jobs, new weapons, new powers, and abilities. The game will offer multiple classes of spacecraft ranging from scouts to gunships.
SOURCE: SWTOR