Star Wars Jedi: Fallen Order art leaks out before big reveal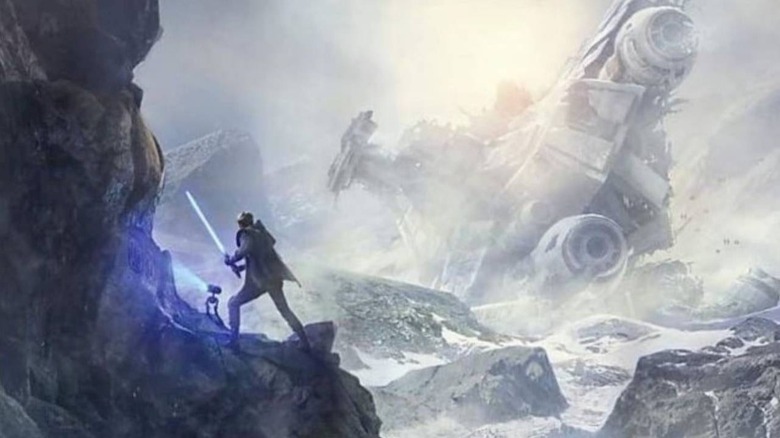 It's going to be a big weekend for Star Wars, as Star Wars Celebration 2019 is currently being held in Chicago. While Disney has already revealed some key information about the next Star Wars movie, Episode 9: The Rise of Skywalker, the movies aren't the only focus of the weekend. Tomorrow, we'll also be learning more about Star Wars Jedi: Fallen Order, an upcoming game from the folks at Respawn Entertainment.
Little is known about Fallen Order at the moment, so tomorrow will essentially be the official reveal of the game. Before that can happen, though, concept art for the game has leaked out. It obviously doesn't give away too much – how much can a single piece of art tell us? – but there's enough to it that fans are excited.
Star Wars Jedi: Fallen Order image leaked via t-shirt on Amazon https://t.co/MaPWGQZ4kU pic.twitter.com/9L2k1nYFIG

— Wario64 (@Wario64) April 11, 2019
Famed Twitter leaker Wario 64 discovered the Fallen Order art in an Amazon listing for a t-shirt, of all things. The art shows a Jedi holding a blue lightsaber – presumably the game's protagonist – in a snowy scene like the ones we saw on Hoth in The Empire Strikes Back. That Jedi is accompanied by a small droid that's in the process of scanning something, with a crashed Star Destroyer taking up much of the shot. TIE Fighters fly through sky above that wrecked Star Destroyer, so it's possible that this was a recent crash and the Empire still has a presence on whatever planet this is.
So far, the only thing we know about Fallen Order is that it takes place shortly after the Empire executed Order 66 in Episode 3, meaning that our protagonist is one of the few surviving Jedi left. That gives a decent amount of context to the image that was leaked, but there's still plenty left to learn.
We'll be finding out more tomorrow at Star Wars Celebration, as Respawn is set to host a reveal panel that kicks off at 11:30 AM Pacific. We're hoping to see some in-game footage, learn more about the story, and find out when the game will launch. Stay tuned, because we'll have coverage of whatever Respawn reveals tomorrow right here at SlashGear.