Star Wars Clapperboard Sets Auction Record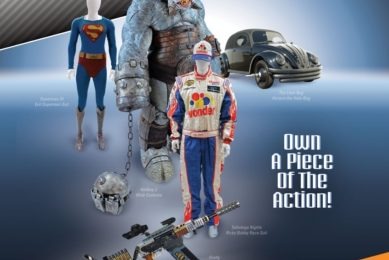 You might recall in late October, I mentioned a company called ScreenUsed was auctioning off some cool and geeky props and other items that were used in movies and TV shows. One of the items that the company was auctioning off online was a clapperboard that was used during the filming of The Empire Strikes Back.
A clapperboard is also known as a camera slate, and the actual item from the auction is pictured above if you still aren't sure what I'm talking about. The coolest thing about this particular clapperboard was that it still had the date written on it in marker, and you can see the remnants of erased scene numbers and take counts.
ScreenUsed says that it set a record for sales price for a clapperboard during its November 3 online auction when The Empire Strikes Back clapperboard sold for $38,350. Anotherbig-ticket item purchased during this auction included the Rocketeer helmet worn in the movie The Rocketeer, which sold for $29,500.
The actual Mattel Hoverboard used in Back to the Future sold for $22,420. Christopher Reeve's Superman Bodysuit worn in Superman III went for $23,600. There's no mention of exactly how much the Ricky Bobby Racing Suit worn in the Will Ferrell film Talladega Nights: The Ballad of Ricky Bobby sold for.