Star Trek Phaser remote: an accurate replica of the actual prop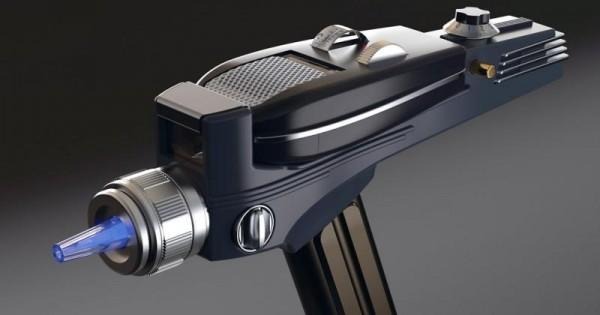 This gives a whole new meaning to that oft-quoted and oft-twisted phrase, "Beam me up, Scotty!" While we've seen many Star Trek-themed paraphernalia, enough to probably fill a museum of its own, this Phaser-shaped universal remote control is in a league of its own. According to its makers, this has been lovingly and painstaking crafted to be an accurate replica of the actual TV series prop.
This Star Trek Original Series Phaser Universal Remote Control (let's call it STOSPURC?) is claimed to have been 3D scanned from the last remaining TV prop in existence, the very same held by Captain James T. Kirk, otherwise known as William Shatner, in his many, and often times disastrous, adventures. This could be as close as you will ever get to holding that weapon, without the fatal consequences, of course.
But unlike most Star Trek collectibles, this was designed not to sit in a glass box on a shelf but in your hands, though hopefully not in that black hole that the living room couch. Be prepared to give your hand and wrist some exercise though, as this remote control functions using gestures, such flicks and dial knobs, instead of your run of the mill buttons. Though it looks as old school as a futuristic device can get, this has plenty of modern day functionality, letting you control TVs, DVRs, stereos and even iPod docks. Basically anything that has an infra-red receiver.
That said, this phaser has plenty of goodies that will make hardcore Star Trek fan drool, like a removable side door that reveals a dilithium crystal inside, authentic Star Trek sound effects and lights, as well as a box that also faithfully replicates the weapons crate containers of the series. Though not exactly part of the original prop, the remote control comes with sleek metal stand to ensure that you won't lose this weapon of mass distraction in the aforementioned black hole.
If you are in any way a Star Trek aficionado, then you might very well be already aware of what to expect when it comes to price tag. For this semi-authentic piece of TV sci-fi history masquerading as a remote control, you will have to cough up ₤119.95, roughly $202.
SOURCE: Firebox