Star Trek Bluetooth Communicator works with your smartphone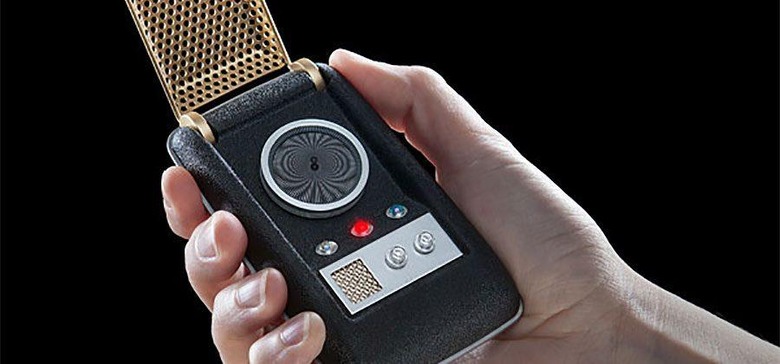 Geeks with a penchant for the original Star Trek series with Kirk and Spock who carry a smartphone that has Bluetooth connectivity might as well get out their wallets. ThinkGeek has a very cool new product called the Star Trek: TOS Bluetooth Communicator. Just as the name implies, the communicator has Bluetooth connectivity to sync with your smartphone and allow you to talk over the communicator like you were on an away team with Kirk.
This is said to be the first fully functional wireless Star Trek communicator and is officially licensed Star Trek merchandise. To answer a call with the communicator you flip the gold mesh lid open and start to talk. It can also be used as a speaker for playing your favorite tunes or as a hands free kit for taking calls.
The microphone inside is a MEMS unit that will make calls clear and understandable. The design of the communicator was scanned directly from an actual prop on the original series. There are 20 sounds integrated into the communicator including voice clips from the crew. Wireless range for the device is 32-feet.
The speaker uses a 36mm driver and the device doesn't need to be paired to a smartphone to chirp and play the sound clips. Construction is from pressed metal, die-cat metal, machined aluminum, and textured ABS. Power is from an internal lithium polymer battery and it charges via a micro-USB cable. The stand is magnetic and supports contactless charging. Dimensions of the device are 4" tall when closed and 7" tall x 2.75" wide x 1.5" thick when open. The device ships with leatherette carry pouch to use on the go. ThinkGeek offers the communicator for $149.99 and it is available to order now.