Squito throwable "ball" camera granted patent with prototype in the works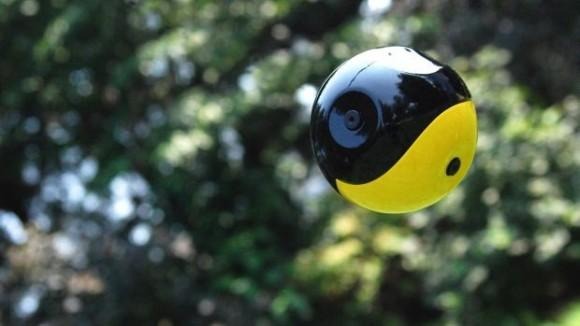 A device called Squito has just been granted its second US patent, with the filing calling it a "Ball with camera and trajectory control for reconnaissance or recreation." In essence, Squito is a black and yellow ball that can be thrown, ending up with either a stabilized video or a panorama created by stitching images together. We have a video of it in action after the jump.
The device has three on-board cameras, as well as orientation and position sensors that allow it to track its target and determine the position in which each image or video frame is taken. The images and frames are then positioned correctly and orientated in the same direction, followed by being stitched together, resulting in a very wide angle panorama or video that gives a look at locations and subjects from an entirely unique perspective.
What's more, there's onboard stabilization to ensure the resulting video doesn't turn out shaky and difficult to watch. All of this is performed by the device itself, which, at the conclusion of its trip, transmits the content wirelessly to whatever device the user prefers – a computer, tablet, or smartphone. Footage recorded with the Squito is surprisingly stable and clear, which you can see for yourself in the video.
Said the device's inventor, Steve Hollinger of Boston, "Throwable camera innovations are accelerating with advancements in sensor and imaging microelectronics. And with the advent of low-cost, high-speed cameras for outdoor recreation, an affordable throwable camera is finally within reach." Mr. Hollinger imagines a wide range of uses for his device, including sports, reconnaissance, search-and-rescue, landscaping, and mapping, to name a few.
The ball camera measures in at about the size of a tennis ball, and is being developed for licensing purposes. The inventor says that he's looking at camera manufacturers, among other places, to get his invention into consumer hands. His latest patent is U. S. #8,477,184.
SOURCE: Engadget