Square Enix brings back the Surprise Box in time for Spring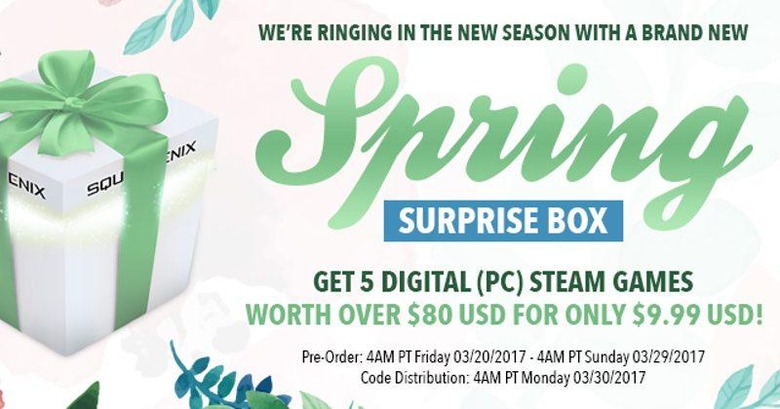 Subscription boxes have become quite the fad but not everyone actually wants random physical trinkets that pile up. Some, like gamers, prefer to go digital. Square Enix once had such an offering that blended the random whimsical fun of subscription boxes with its digital titles and now that "box" is making a comeback. The Square Enix Surprise Box has returned to keep you occupied this Spring season. Presuming, of course, you get lucky and don't own any of the surprise games already.
Just like subscription boxes, you can't really tell what you're getting, and neither is Square Enix. Subscription boxes usually revolve around themes, but the game publisher isn't giving out a single clue. All that you can hold on is a promise of "exciting titles", from Square Enix, of course.
The mechanics for the Surprise Box is amusingly different for North America and Europe. For North America, the Surprise Box costs $9.99 and will contain five (5) Steam titles plus a special Square Enix Store promo. Those interested have until 29th March, 4 AM PST to sign up. The digital boxes will be delivered on 30th March, after 4 AM PST.
In Europe, the price tag is surprisingly higher, at 9.99 GBP or 11.99 EUR, depending on the country. And there are only 3 mystery games inside. In exchange, all boxes are guaranteed to include a copy of Just Cause 3. The promo period is also shorter, lasting only until 27th March, with deliveries scheduled on the 28th.