Spy shots show revised Mercedes-Benz AMG C43 and C63 rockin' camo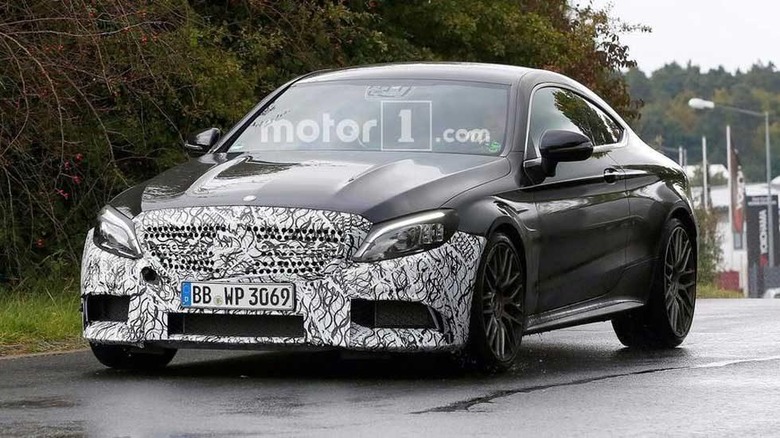 We love to see spy shots of new and changed cars around here and the latest round of spy shots shows that some changes to the Mercedes-Benz C class AMG flavors are coming. It's hard to tell which car is grey and which is black in some of these spy shots, but the gray car is the C43 Coupe and the black one is the C63 Coupe.
The portions of the cars that will be changing are the front and rear bumper areas. The changes don't appear to be that significant. Changes are expected to include a move to vertical slats on the grilles, common to other current Mercedes AMG models.
The car also seems to have LED headlights of the sort seen on the E-Class. On the rear of the car, the C43 has dual exhaust, but those parts are not thought to be the final production versions, rather fillers for testing. The C63, on the other hand, has square exhaust pipes and they are thought to be the final production parts.
The interior of the AMG version is expected to get a revised steering wheel and a new infotainment system, something common to all C-class cars. The center console will also have a touchpad controller for that infotainment system.
The powertrain is a mystery as of now. The C43 is expected to get an inline six. That upscale C63 is expected to pack a biturbo V8 engine. There is some hint that a C63 R model might be landing as well.
SOURCE: Motor1