Sprint to get Kyocera Sanyo texting phone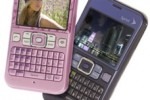 Even though AT&T just received a bunch of new phones that focus on texting as a primary feature, Sprint is not a company to be outdone and have just announced the Kyocera Sanyo SCP-2700.
This latest texting phone is mostly keyboard and somewhat cheap looking. But that's okay. This texting device hones in on one or two primary features, meaning extravagance isn't required. Other features include the Sprint Seven email program, Microsoft Exchange support, a 1.3-megapixel camera, speakerphone, Bluetooth, GPS and more.
The screen measures in at 2.2-inches with a 320 x 240 resolution. One cute feature is a dedicated button for inserting emoticons. But just because there are texting features aplenty on this phone, it's by no means smart. You can get the SCP-2700 on May 10 for $29.99.
[via Gearlog]