Sprint adds support for Android devs to Sprint Developer Website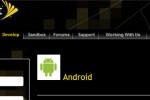 Android is fast becoming one of the most popular operating systems in the smartphone world. While Apple only offers its smartphone OS on one device, Android is being offered by multiple manufacturers from HTC to Palm and Motorola.
Sprint has announced that it has added support for Android developers to its Sprint Developer Website after unveiling the HTC Hero as its first Android device. The new developer site is designed to support developers who are designing and implementing new apps for Android phones.
Sprint offers its network and product services tools through the Sprint Developer Sandbox. This provides access to location-based services, messaging, and Geofence services. HTC and Sprint have announced that they will give the first 400 developers attending the Sprint Developers Conference the HTC Hero along with a month of Sprint service.