Spreadtrum unveils world's first single chip quad-SIM standby solution for mobile devices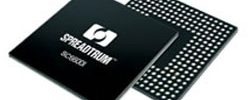 If you travel a lot and need a phone that has dual SIM cards allowing you to access mobile calling and data networks in multiple countries with one device a new single chip solution from Spreadtrum will allow you even more flexibility. The new solution is called the SC6600L6 and it allows a single mobile device to have four SIM cards.
The chip lets all four of those SIM cards run in standby mode at one time with one baseband and RF. It has an integrated processor engine and controller for the four SIM cards and uses an improved graphic interface for Quad-SIM. The user has options as to how many SIM cards are used in the handset with the new SC6600L6 chip.
The device can have dual, triple, and quad SIM cards and still function allowing for lots of options for the user and the designer. No handsets have been announced using the new chip at this time.