Spotify Wear OS app with offline listening feature is now available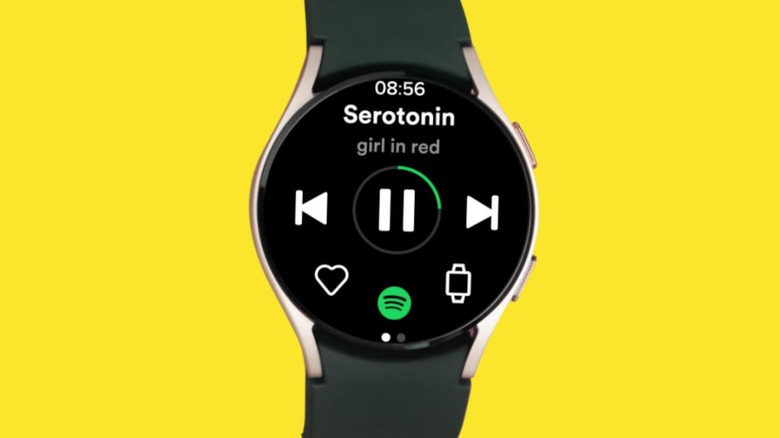 Google seemed to be all in on the upcoming Wear OS 3, but it threw existing Wear OS users a bone a few weeks ago. Some features that are headed for the next version of the wearable platform will also find their way to existing smartwatches. Fortunately, some app developers aren't limiting their new features to Wear OS 3 either, and Spotify has announced much-needed offline listening support that's heading to all Wear OS users. That update is finally making its way to smartwatches, but a few users seem to be unsatisfied with some aspects.
The ability to play music directly from a smartwatch without a smartphone nearby isn't exactly a common use case, but that's probably due to the lack of widespread support. Music streaming isn't exactly an option for the majority of smartwatches that don't have LTE connectivity, and few of the major streaming services offer the ability to download music for offline listening. Even Google's own YouTube is only getting that offline playback capability in an upcoming update to its Wear OS app.
That's the very same promise Spotify made when Samsung launched the new Galaxy Watch 4, but it also promised the same for older Wear OS smartwatches. A post on Reddit confirms that this new Spotify Wear OS app has started to roll out to offer exactly that, though it doesn't seem to be smooth-sailing for all users.
One user, in particular, noted that significant battery drain and sound quality issues using this offline mode. Another noted that Bluetooth 4.2, which is standard on older smartwatches, may be to blame for connection problems with a wireless headset. That said, not all users who got the update verified those comments, so it might be a hit or miss, depending on the smartwatch model.
Spotify's offline listening support for Wear OS still requires a Spotify Premium account, of course, though free users will supposedly be able to download podcasts as well. It seems that users will be able to download playlists instead of individual songs, requiring an extra step to organize your favorites on your Wear OS smartwatch before heading off for a run.