Spotify Snapchat update lets you share music and podcasts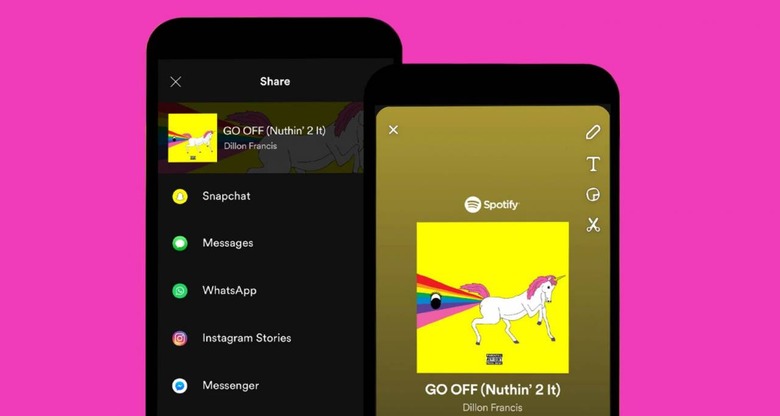 In its quest to retain its spot as the dominant music streaming service, Spotify is helped by integrating with other apps. Today it's doing just that, announcing new Spotify functionality within Snapchat. At some point in the near future, you'll be able to share the music and podcasts you're listening to on Snapchat, potentially introducing your friends to some new tunes in the process.
When this integration goes live, Spotify says that all users who also use Snapchat will be able to share things like tracks, playlists, albums, and podcasts within the latter app. You'll be able to do this by either sending snaps to friends directly or by publishing them to your story.
The process of sharing whatever it is you're listening to is a simple one. From within the Spotify app, tap the "Share" menu on the right side of the screen and then select "Snapchat" from the dropdown list that appears. From there, Snapchat will open and begin creating a new snap that features the album art belonging to the song or album you're listening to. At that point, all you need to do is select the friends you want to send your snap to and you're good to go.
When you receive a snap that has Spotify track, playlist, artist, or podcast info in it, you can hop over to the Spotify app and begin listening to it there. While viewing the snap, swipe up from the bottom of the screen and tap the context card. Once you do that, the Spotify app will open and you'll be listening to whatever your friend sent you.
Spotify doesn't say when, specifically, this functionality will launch, saying only that it's "rolling out soon." When it does arrive, it'll be going live across Android and iOS. We'll keep an eye out for additional details, so stay tuned for more.