Spotify now lets all artists sell their wares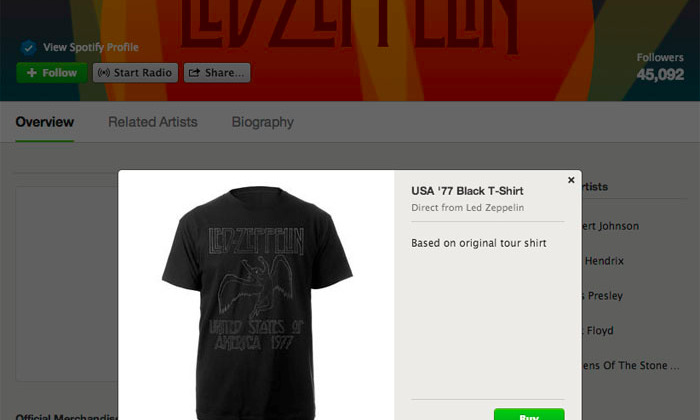 Spotify has more good news this month, this time for both artists and subscribers. Starting today, all artists will be able to sell directly to fans some items such as shirts, vinyls, posters, deluxe editions and others. Best of all, there are no strings attached and no revenue cuts.
Spearheading what may yet be a new kind of business offered by streaming services, Spotify made a soft launch of its merchandise-selling feature over the past weeks. This new source of revenue for artists was initially available to more than 200 artists, including Led Zeppelin, Beastie Boys, Bon Jovi, and more. Now Spotify is opening it up to all artists in its roster.
The great thing for artists is that they don't have to change the way they're selling their stuff if they're already using a direct-to-consumer or D2C service. It does require registering an account with D2C firm Topspin, who is Spotify's exclusive partner for this feature. However, artists can just link to whatever D2C store they're using with no worries.
Artists can list up to three items only. These will have to pass through Spotify's approval, which they say can take any where between 24 to 28 hours. Spotify wants to make it clear that neither it nor its partner Topspin will be taking any cut from the merchandise being sold. Spotify believes that this will be the new trend among services that offer digital distribution or streaming of media, such as Spotify and its rivals, and that it would bring back a time when fans would gush over merchandise from their favorite artists.
There are currently several limitations on the user-facing side of this feature. For one, it is only available to Spotify users in the US, the UK, Ireland, Australia, New Zealand, Denmark, Sweden, Norway, and Iceland, though other territories are sure to follow. The merchandise are also only listed within the artists' profiles and nowhere else and the feature itself can only be seen in the desktop client. It would be nice to be able to view those items in other prominent places as well, but those could be added sometime in the future.
VIA: Music Ally