Spotify iPad app captured by Mr. Filtercam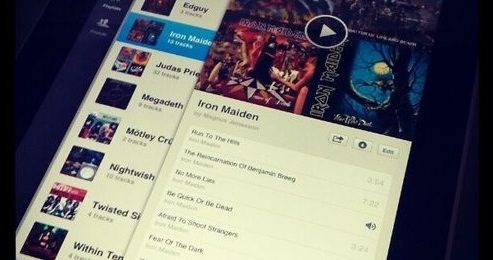 Try and use Spotify on your iPad right now. Go on, we'll wait. Done? Yeah, that was pretty horrible, wasn't it? Right now you have to scale up the phone app to be able to use the streaming music service, and while we're still waiting for the elusive iPad app, new photos may indicate what we can look forward to when Spotify does eventually land. It looks pretty swish too.
A Swedish technology consultant posted an image to Instagram of what he claims to the be Beta version of the Spotify iPad client. The photo, which has since been removed, shows a user interface not too removed from the Twitter iPad client, with slidable panes, and a friendly user interface which makes full use of the iPad's screen real estate.
At the bottom of the client is a large bar showing you what's currently playing, along with dedicated controls including Play and Forward/Back. The "expand" button next to the album art possibly means you'll be able to fullscreen the controls and hide search results. If you take a closer look at the picture, you'll see some additional buttons, like Search, Playlists, and others that you'd expect to find in a Spotify client.
Spotify has remained silent on when we can expect to see a proper app for the iPad, although if they're testing a beta version, we should hopefully see it sooner rather than later.
[via Gizmodo UK]