SpotCam HD Pro: a durable security cam for outdoors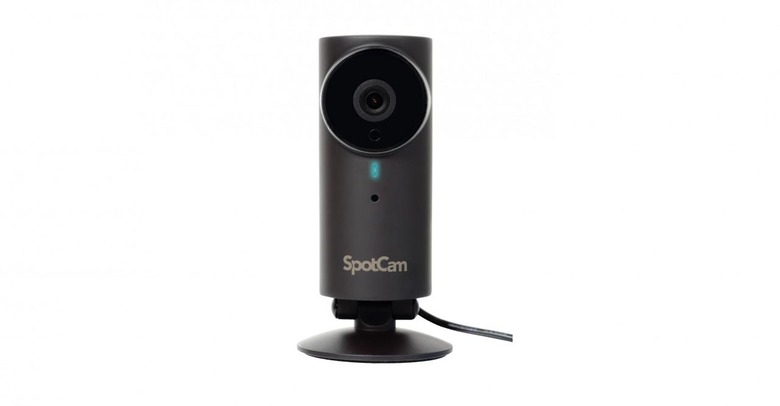 SpotCam has announced the upcoming arrival of its new SpotCam HD Pro, a consumer-level security camera designed specifically for outdoor use (though, of course, it'd do just fine indoors, too). The camera is reasonably durable and both water/dustproof (IP65 certified), which is enough to withstand the rain or any dust that's blowing around. This is coupled with a mixture of cloud-based footage storage, mobile control via Android and iOS apps, and simplistic functionality that makes setup fairly quick and painless.
The SpotCam HD Pro works alongside SpotCam's cloud for storing footage, the first 24 hours' worth being free for new users. Monitoring can be done from a Web browser on one's computer, or on a mobile device running Android or iOS. This combination of mobile monitoring and cloud-based storage is promised to make the setup process simple, as well.
In addition to the HD resolution, the SpotCam HD Pro also features night vision, which enables recording footage at night or in dim settings without a visible external spotlight. This is complemented by motion detection, which prompts the camera to fire off an alert delivered on the user's preferred device.
The motion detection means the camera can be used in sleep mode, which keeps it inactive until something moves, which triggers it to begin recording. This helps keep the amount of footage stored lower by ensuring that anyone or thing that might come around is captured for later review, but nothing more. All footage is transmitted with 128-bit SSL encryption, as well.
The camera will launch later this month on Amazon/Newegg for $199.99 USD.