Speck MightyPack Plus Review: Mighty indeed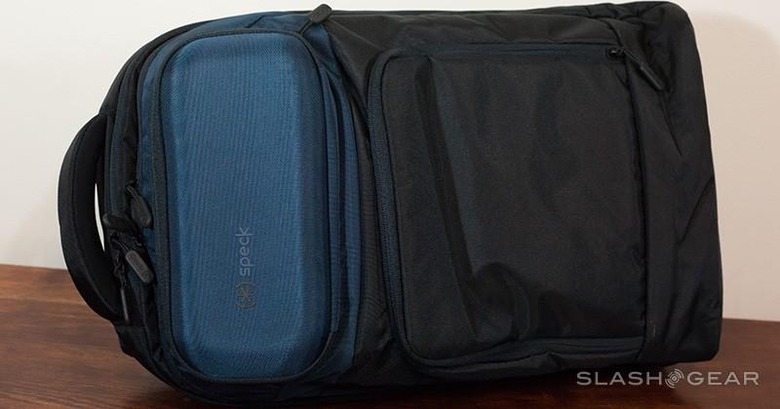 I'm the kind of guy that's much happier carrying around a backpack, rather than a typical laptop bag. Not only do I find them more comfortable, they typically have more storage space. For a couple of weeks, I've been testing out Speck's MightyPack Plus, and using it to lug around my various gadgets.
A backpack is a backpack, right? It's got some pockets, pouches and a zipper or two. That may have been the case years ago, but with the rise of portable technology, backpacks have needed to adapt. Now we see specific pockets for electronics, pass-through holes, and more. The MightyPack Plus is no different, as it's got a few tricks hidden up its sleeve.
The backpack is pretty typical at first glance. It's got two main pocket areas, one front one, and one up top that isn't quite so typical. We'll come back to that one. On the backside, you'll find the slightly-padded straps, and a very padded backing. In all, a pretty average-looking backpack.
So let's go back to that top pocket that I mentioned just a moment ago. This compartment sticks out just a bit, and is fairly rigid. In fact, it's made of a tough, molded EVA foam. When you open it up, you'll find that it's lined with (vegan) fur that is meant to be easy on the screens of your various gadget. This area is referred to as the Tech Locker.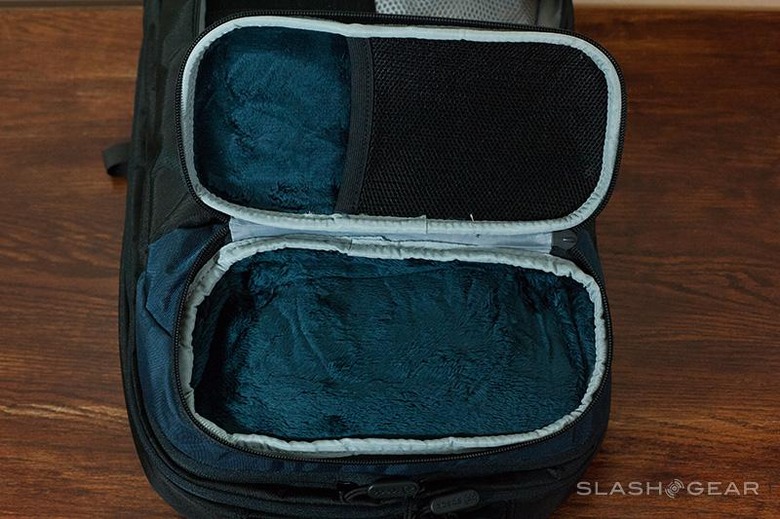 The Tech Locker is nice, as there are always things that you want to be especially careful with. But in most backpacks, everything is sort of a free-for-all, unless you've got a heavier hard-shell backpack. This compartment isn't huge, but there is room for a foldable pair of headphones, or a DSLR camera. I was able to fit my Canon 5D Mark II in it, with my trusty 50mm lens. It was a bit of a tight squeeze, but I was happy to have a nice place to pack my camera away. There's also a small mesh pocket in there, if you have something smaller that you don't want bouncing around in there.
The other front compartment is pretty typical for most bags. On the flap that folds down, you'll find a large mesh compartment with a zipper. There are two more small mesh compartments on the inside for holding small accessories. There is a small sleeve area that's big enough to fit a small tablet, or eReader, along with a couple of pen slots. In the top corner you'll find a pass-through slot that will allow you to run a cable through to the next compartment.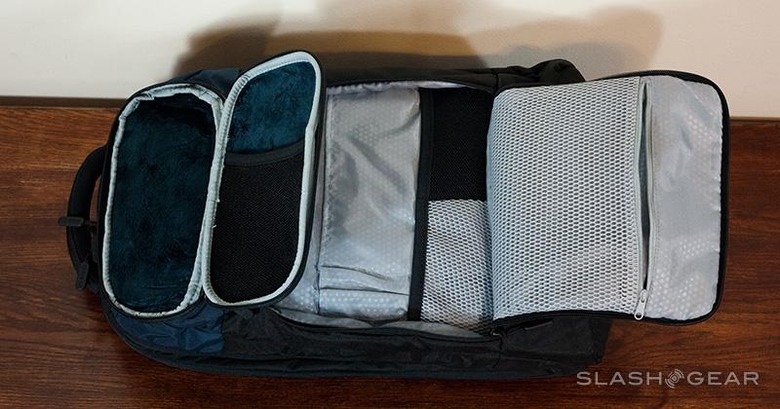 The next compartment is what I typically refer to as the "catch-all" compartment. It's big, open, and can hold a fair amount of junk. Aside from a tablet sleeve and a couple of pen/stylus holders, there's not much going on here. This is actually where my first complaint about the MightPack Plus comes in. This large compartment is actually fairly shallow. You can stack stuff in it, but it doesn't expand outward much at all. If you're hoping to cram bulky items or a bunch of books in here, you'll be disappointed. Now if you're just throwing in a tablet and some notebooks, you should be fine.
The final compartment is TSA-compliant, which means it zips down to lay flat. Up against the back of the compartment is your padded laptop sleeve. This will hold up to a 15" laptop. What's interesting is that it looks like it would hold something bigger, but the sleeve was made too shallow. This might seem like a strange move, but by making it shallow, it puts a good couple inches between the edge of your computer and the ground. There's a bit of padding there, and along the bottom, to maximize the impact absorption of the bag.
On the other side of the main compartment are three big pockets, and one small mesh pocket. The mesh pocket is interesting, because you access it from one of the two zippers on the side. The zippers are placed here so that you can slide in a backup battery and run a cable out the side. You can continue to run the cable out the side of the backpack, and use it to charge your phone, which might be in your pocket or hand.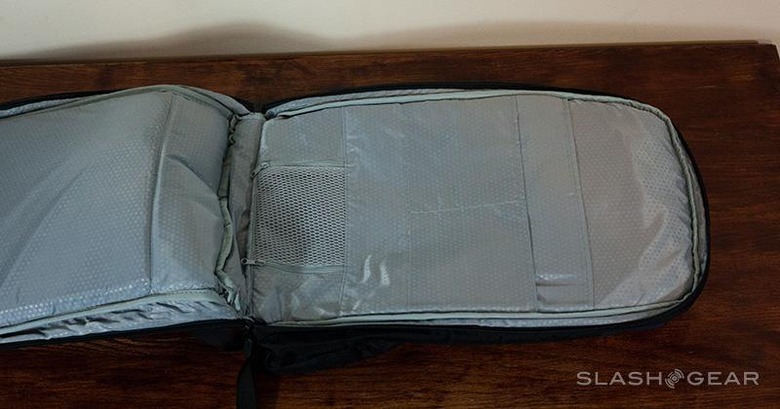 Overall, I've enjoyed using the Speck MightyPack. I've thrown a couple of different laptops in it (at the same time) along with my camera and plenty of other accessories, and it's been great. There are a lot of pockets, which I love. Seriously, I don't think a backpack can have too many pockets. I would like to see just a bit more room for the bag to expand outward, for those who might use this for school. There's not really a good way to carry around more than a couple of books, especially if you're also putting a laptop in there.
I really like the idea of the tech locker. Sometimes you have fragile items that you don't want sitting in a regular compartment with everything else. Headphones can snap all too easy, and I like some extra padding around my camera when I take it places. And for non-tech uses, people with glasses (or nice sunglasses) might like a spot to throw them, without having to dig out a special case.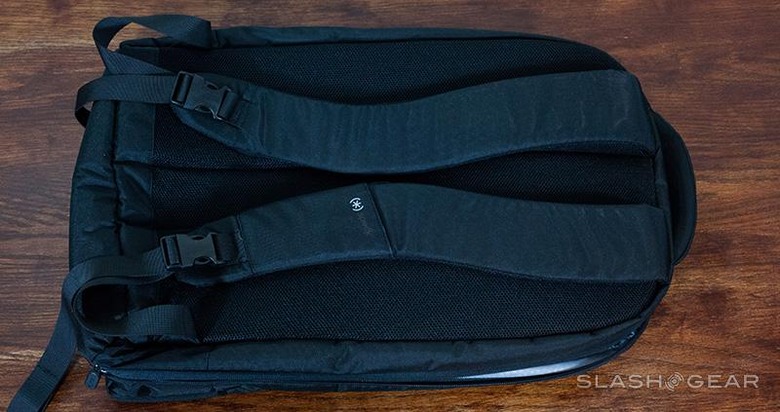 The Speck MightyPack Plus comes in three different colors, which are ridiculously named. They are as follows: Coal Dust Black/Moody Blue/Polar Grey/Coal Dust Black, Celestial Blue/Misty Blue/Polar Grey/Polar Grey, and Zinfandel Pink/Pomegranate Pink/Polar Grey/Glitter Pink. Personally, I just refer to them as black, blue, and grey.
You can pick the MightyPack Plus up for $99.95 on the Speck website. They also make a non-Plus version of the MightyPack that is a bit smaller, and doesn't have the TSA-compliant compartment in it. The smaller size will only set you back $79.95.