Spatial View 3DeeScreen can turn any laptop into a 3D laptop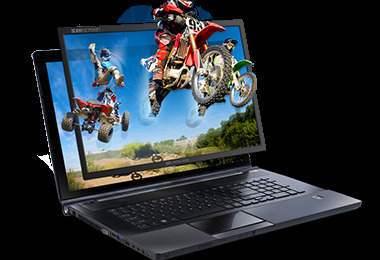 Glasses-free 3D technology has been hit or miss since it first started making its way to the consumer market in late 2010. It's a neat feature to have in 3D digital camera preview displays and digital photo frames, but it's not winning a lot of fans when it comes to 3D phones, and the Nintendo 3DS hasn't exactly been a blockbuster. But if all it took was an accessible and relatively inexpensive peripheral to bring your computer to the next dimension, would you?
A company called Spatial View is hoping you'll say yes. Its new 3DeeScreen is a lenticular lens filter that snaps onto your laptop's display via a magnetized mounting frame. It actually manages to create the same kind of effect as glasses-free 3D displays, which use a technology known as autostereoscopic 3D and incorporates walls of tiny mirrors to create the impression of depth. At the moment there is only one available version of the 3DeeScreen and it is designed to fit 15.6-inch laptop displays.
When it comes to 3D and computers, it was decided very early on that users do not want to wear 3D glasses. Period. Toshiba came out with a solution for glasses-free 3D computing, but this one is even more effective and applicable to a much wider range of consumers. "Our goal is to provide a superior 3D viewing experience and enable existing laptops with 3D functionality at a reasonable price," said Spatial View general manager Ihor Petelycky.