Spark email app offers customization, clever Apple Watch integration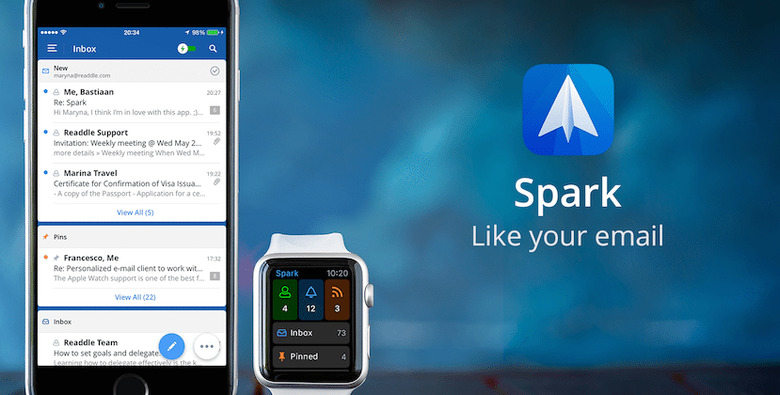 It seems like every week or so there's another email app for iPhone trying to compete with the popular options like Mailbox, Outlook, and, of course, Gmail. But every once in a while, something comes along that offers the right levels of customization, and enough features to make mobile email both useful and painless. Spark for iOS just might have what it takes. It's the newest app from Readdle, the developers behind well-known document management apps like Scanner Pro, PDF Expert 5, and Documents 5.
Spark offers all the basics necessities an iPhone email app needs to have today: an inbox that can automatically categorize and filter email, the ability to snooze messages until later, and gestures that can be used for quickly sorting and deleting mail.
There are also more than a few apps and services that integrate with Spark for saving and adding attachments, including Dropbox, Evernote, Google Drive, Box, OneDrive, and Pocket. Among the customization options are widgets such as calendar, adjusting what appears in the app's sidebar, and reorganizing menu items.
The app features useful Apple Watch support, offering a simple look at the number of items in your inbox, and presenting quick-reply options for incoming mail, letting you bypass unlocking your phone. The search function lets you use natural language, such as "email with attachments this month."
The one issue with the snooze mail function is that it will only work within the Spark app. An email won't reappear in your inbox on the desktop or in other apps until you've opened it in Spark. The developer says this is due to not using external servers to store users' email, which would be a big security risk, and so the snooze feature only happens within the app on a user's device. With everything else Spark has to offer, in addition to being free, this should hardly be a deal breaker.
SOURCE Spark/Readdle (App Store)