SpaceX seeks approval to put 30,000 additional Starlink satellites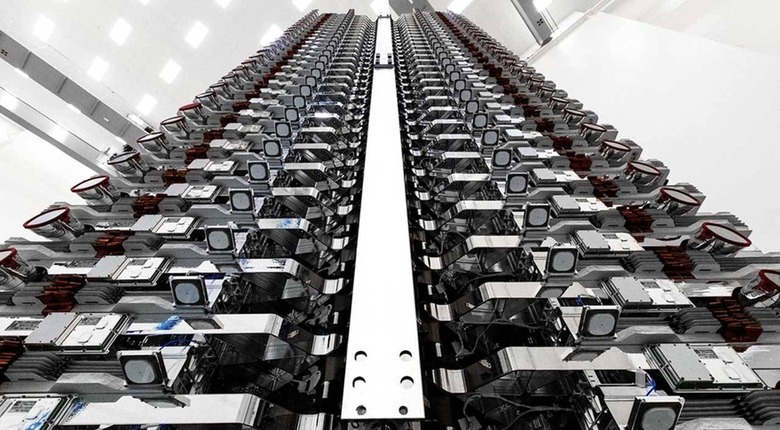 SpaceX has big plans to offer internet connectivity around the world using its constellation of Starlink satellites. SpaceX already has FCC approval for 12,000 Starlink satellites, and it is now seeking approval to more than double that number. Space X is seeking FCC approval for an addition, 30,000 satellites.
The company has submitted paperwork in recent weeks for the additional satellites. The FCC, on SpaceX's behalf, submitted 20 separate filings to the ITU, International Telecommunication Union. Each filing covers 1,500 satellites per listing to be deployed into various low Earth orbits.
SpaceX currently has only 60 Starlink satellites in orbit, which were launched in May. The ITU is an entity within the United Nations that is meant to coordinate spectrum at the international level. It's goal is to prevent satellite operators from using signals that interfere with other satellites or consume excess spectrum.
SpaceX has stated in the filings that the additional 30,000 Starlink satellites would operate in low Earth orbit at altitudes ranging from 328 km to 580 km from the surface. SpaceX has stated that the satellites would have steerable spot beams to link with customers and omnidirectional beams for spacecraft telemetry, tracking, and control functions.
The filings do trigger a 7-year deadline for SpaceX, where it must launch at least one satellite in the requested frequencies and operate it for at least 90 days. Other satellite operators are expected to design their satellites to avoid that spectrum range. One analyst has said that SpaceX's filings are an attempt to "drown the ITU in studies" while proceeding with its constellation. If SpaceX does make good on launching its 30,000 satellites, it will be responsible for a fivefold increase in the number of spacecraft launched by humans since Sputnik.