SpaceX Falcon 9 successfully puts HIPASAT into orbit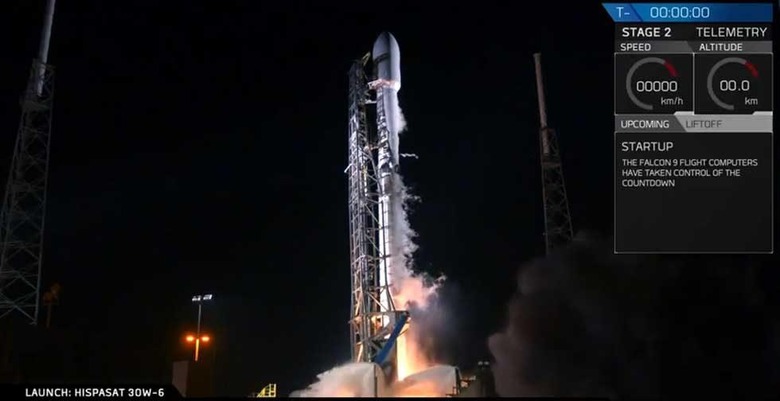 SpaceX has added another successful satellite launch to its resume after a Falcon 9 pushed the HISPASAT 30W-6 satellite into orbit. This mission marked the 50th flight by SpaceX and launched from Cape Canaveral early this morning. The satellite that it put into orbit is a Spanish communications satellite.
While this is the 50th flight for SpaceX during its history, this marked the fifth flight this year. The last launch saw the Falcon Heavy rocket put Elon Musk's own Tesla Roadster into space. The recent launch was more than a week after the originally planned launch date.
The recent or the delay was testing and scheduling issues. The liftoff came at 12:33 a.m. EST at Cape Canaveral and the launch lifted off from Pad 40. The massive Merlin 1D engines generate 1.7 million pounds of thrust and a massive plume of fire visible for miles around the launch site.
SpaceX tweeted to confirm that the deployment of the satellite into a geostationary orbit was confirmed. Elon Musk tweeted congratulations to the team noting that ten years ago SpaceX couldn't even reach orbit with Falcon 1.
Very proud of the SpaceX team! Can't believe it's been fifty Falcon 9 launches already. Just ten years ago, we couldn't even reach orbit with little Falcon 1.

— Elon Musk (@elonmusk) March 6, 2018
The program has certainly come a long way in a decade. The Falcon Heavy rocket is expected to one-day ferry astronauts to space giving the US direct access to space that it has lacked since the retirement of the space shuttle fleet.
SOURCE: CBS News