SpaceX Dragon Cargo Spacecraft Successfully Docks With ISS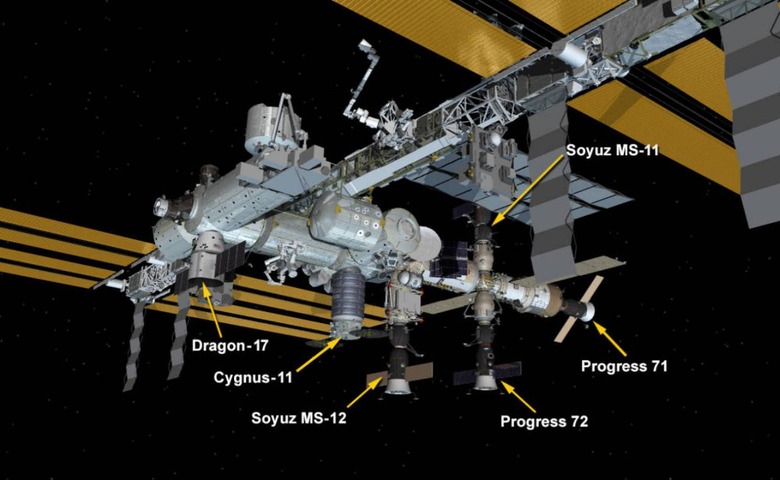 Over the weekend, SpaceX launched its Dragon cargo spacecraft packed with supplies for the International Space Station. Now, two days later, NASA has confirmed that the spacecraft successfully docked with the ISS, bringing with it more than 5,500lbs of cargo that includes hardware, research materials, and supplies for crew members. This marks SpaceX's 17th contracted commercial resupply mission.
According to NASA, the Dragon cargo capsule docked with the Harmony module on the ISS just after 9:30AM EDT on May 6, 2019. SpaceX's spacecraft is one of six spaceships currently docked with the ISS, joining Russia's Progress 71 and 72 resupply ships, the Soyuz MS-11 and MS-12 crew ships, and the Northrop Grumman Cygnus space freighter.
NASA has provided some information on the cargo that SpaceX delivered in its most recent resupply run, including a new tech called "tissue chips." This technology may help predict how effective different medications will be in human patients; it works via fluids infused with toxins or drugs that are passed through the chip to simulate blood flow. More on that here.
As well, the cargo spaceship delivered the Hermes Facility to the ISS. This experiment station, NASA previously explained, enables researchers on the ground to control studies on the ISS "as if they were in space themselves," opening the doors to a new type of communication between the two destinations.
The space agency says the SpaceX Dragon cargo capsule will spend around one month docked with the ISS, during which time the cargo will be unloaded and reloaded with other items that need returned to Earth. The spacecraft will then return those items to the surface, completing the most recent cargo mission.