SpaceX, Boeing Commercial Crew flights delayed by NASA (again)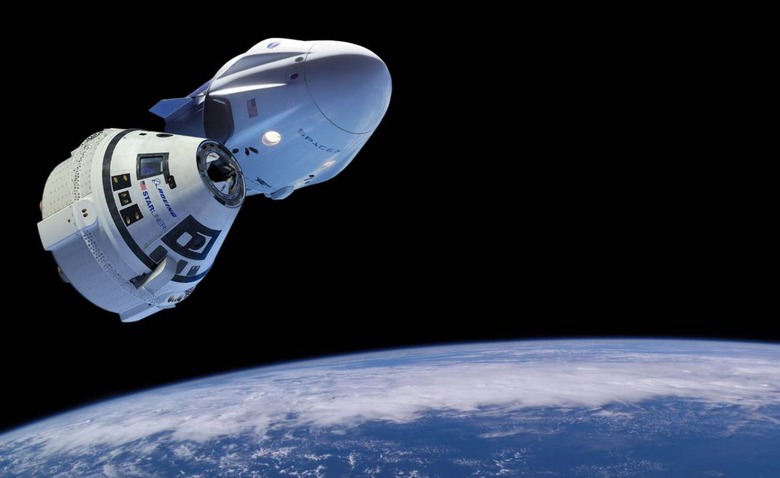 NASA has once again pushed back the first test flights for its Commercial Crew program. The Commercial Crew Program was originally scheduled to get off the ground in January with the launch of SpaceX's Demo-1, followed by Boeing's Orbital Flight Test in March. Now those flights have been delayed to March 2 and no earlier than April, respectively.
NASA today said that this allows it, SpaceX, and Boeing more time to make sure everything will be good to go for launch. Specifically, this includes tasks like additional hardware testing, more reviews from NASA, and training flight controllers and mission managers.
These initial flights in the Commercial Crew Program will be unmanned. In today's announcement, NASA calls them "dress rehearsals" for flights that will have astronauts on board. Though they're essentially practice runs, they're still big launches, as the Commercial Crew Program will eventually be used to take astronauts from the US to the International Space Station. When those first manned missions actually launch, it'll be the first time that astronauts have launched from the United States since 2011.
As the result of these delays, those initial crewed missions have been pushed back as well. Boeing will run a pad abort test no earlier than May 2019 now, while SpaceX will perform an in-flight abort test in June. Assuming those tests go well and there isn't a need for further delays, we'll see the first crewed mission from SpaceX, Demo-2, happen in July, while Boeing's Crew Flight Test will happen no earlier than August.
Of course, this new timeline also assumes that these initial test flights aren't delayed further. NASA is giving itself just under a month to make sure everything is ready for SpaceX Demo-1 on March 2, so we'll see soon enough if these delays have provided enough time to ensure we're ready for launch. Stay tuned.