SpaceX BFR Mars rocket tests may start in first half of 2019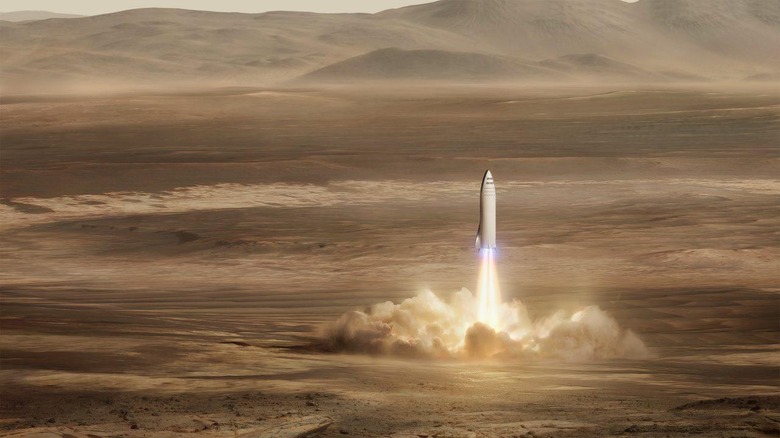 Elon Musk, well known for his ambitious deadlines, has revealed that SpaceX may start testing its Mars rocket in the first half of next year. It's no secret that Musk envisions a future in which humans have branched out from their Earth-bound homes, but taking humans to Mars is a mission still years away. The testing of its BFR system, however, underscores the progress SpaceX has made toward this goal in recent years.
Musk revealed the ambitious timeline during a speech at the South by South West (SXSW) festival in Texas in recent days. Though the company is still a long way off from actually sending humans to Mars, its Mars rocket tests could be less than a year away. According to Musk, starting in the first half of 2019, his private space company may start some test flights that involve going up and down.
Of course, it's possible the company won't hit that deadline, however Musk has made it clear that getting humans — and their technology — off Earth is vital for helping ensure its survival. During the speech, Musk made mention of a "probable" third world war, a potential reality further underscoring the need to get humans off Earth, according to BBC. Should something cataclysmic happen, humans and human technology elsewhere could help avoid another dark age.
Musk talks about multi-planetary life in the video above, though if you don't have enough time to put aside to listen to it, the company also provides a transcript detailing Musk's thoughts. The company also has a video (below) giving a brief overview of its Big Falcon Rocket (BFR), the same system Musk anticipates the company testing starting next year.
SpaceX has achieved multiple huge milestones, most recently — and perhaps most notably — being the successful launch of Musk's Tesla vehicle with "Starman" passenger into space. The company has successfully developed and tested reusable rockets, as well, part of its mission to drastically decrease the cost of space travel.