Space shuttle Discovery set for final voyage to Smithsonian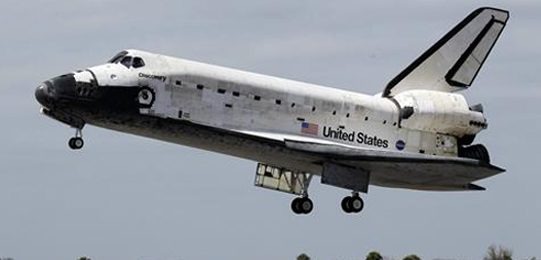 It's more than a little sad to see the space shuttle fleet retired and Americans having to hitch a ride aboard Russian spacecraft to reach the ISS. The space shuttle Discovery landed after its final space mission in March of last year. We knew when the discovery touched down after that final mission that it was bound for the Smithsonian museum to join the massive aerospace collection the museum owns.
The time for Discovery to head to the museum collection is coming very soon. Smithsonian Secretary Wayne Clough has announced that the Discovery will be flown on the back of a Boeing 747 in April to Dulles International Airport. According to Clough, the 747 with the piggybacking space shuttle will make a flyover of Washington on its way to the Smithsonian hanger in north Virginia.
The flyover is set for April 17 according to Clough, but another spokesperson for the museum said that detail has not been fully worked out at this time. The formal welcoming ceremony for the Discovery at the hanger is set for April 19. In the second half of 2012, the Endeavour will make its final voyage to the California Science Center in LA.
[via Washington Post]