South Park: Fractured But Whole game finally gets a date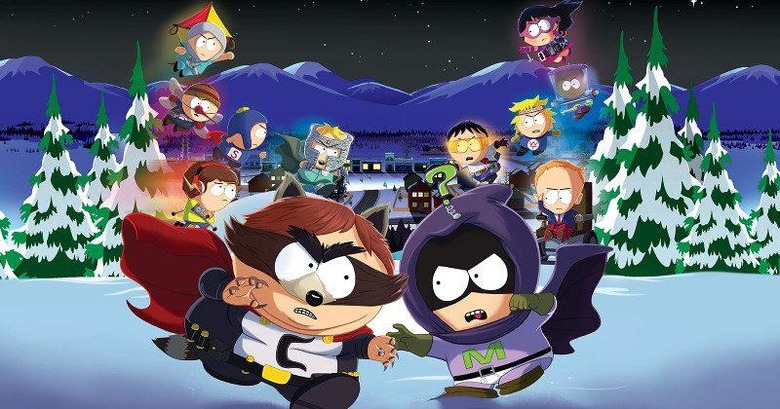 Superheroes have been big this year and the last, which means they're great targets for criticisms and parodies. One such treatment, however, is going to have to wait for nearly half a year to be hear. Yep, the awaited next South Park game is indeed coming Q1 next year, and at the latest of the late in that quarter. Of course, it could have been worse. The game could have been shelved, considering Ubisoft's somewhat precarious business situation at the moment.
To be fair, "Fractured But Whole" was announced only last year, so it's still pretty much on time for a game made by a well-known developer. Which is to say, late. Ubisoft did give fans the heads up last month, saying that the game won't be out until Q1 of 2017.
In an e-mail to pre-order buyers, Sony revealed that the game will actually launch March 31st. Just one day of shy of not being Q1 2017. Better late than never, of course.
Ubisoft's reasons for delaying the game was the usual "need more time to polish". The company itself, however, also needs more time to fend off a looming hostile takeover by Vivendi. Ironically, delaying the game further, or even canceling it, could make matters worse in that regard.
Sony also notes that those who pre-ordered the game and want to keep it will have to fill up a form. In this case, silence would mean canceling the order, which fortunately also means a refund.
South Park: Fractured But Whole (which is a play on "fractured ...", you get the idea) revolves around the superhero genre that has become so widespread these days. In contrast, the previous game, South Park: The Stick of Truth, played on high fantasy tropes more prevalent in 2013 and earlier. Of course, both are tongue-in-cheek and satirical treatments of these topics, with a not so healthy dose of NSFW content.