Source R&D's Warpia Easy Dock Wirelessly Connects Your Desktop and Laptop

Ease of use and convenience is a big part of anyone's life. And when you're working with computers, for work or personal use, then you know working with more than one of them can become a hassle given enough time. Whether that means you've got all your files on one, and yet need it for a special project on the other, there's no telling how many different scenarios can pop up and make you wish everything was just connected. Source R&D feels your pain, and they want to help you out. That's why today marks the official announcement of their Warpia Easy Dock. That's right: your life just got easier.
The laptop has become something of a ubiquitous product, to say the least. For some people out there, it holds the contents to their entire lives: music, school, work, pictures, and movies. But some people out there would rather watch their movies on a bigger screen than their laptop. Or listen to music on better speakers than the ones their laptop offers. Or, maybe you have a netbook with a smaller keyboard, and you want nothing more than to feel a full-sized board under your fingers again. Then the R&D Warpia Easy Dock is exactly what you need.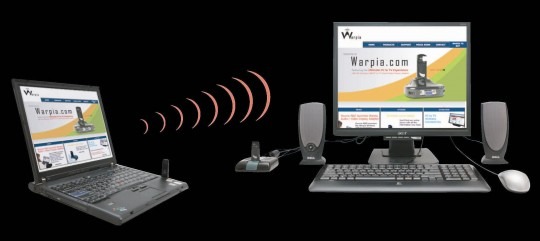 Based off wireless technology from Wisair, the Easy Dock is basically a dongle that connects to your laptop via a USB port, and a receiver that you connect to your home-based desktop PC. It connects to the monitor, keyboard, mouse, and speakers. The receiver will instantly recognize the dongle, and the wireless transmission will begin. It will then begin transmitting the image from your laptop at a max resolution of 1400x1050 to your desktop screen.
"Perfect for professionals working from home, students on-the-go, or families with both MacBook and PC laptops, the Easy Dock gives customers ultimate portability and comfort," says Marc Levaggi, VP of Marketing for Source R&D. "They can take their compact notebook to business meetings, while still having the option to do more intensive work at home with a full-size keyboard and monitor. It's also a great solution for those who want to play media on high quality speakers."
Yes, there are other options for wirelessly syncing your laptop to your PC, but Source R&D is ahead of the game with their level of wireless technology. Above all, you're able to wirelessly sync between a Mac-based platform to a Windows-based one without any trouble or extra cables. It just works. And for $149.99, it's priced to not be a strain on your wallet. The Easy Dock works with Windows 7, Vista, XP, Mac OS X Leopard, and Snow Leopard. If you've been looking for a way to easily access everything on your laptop from your desktop, here's your answer.
[via Source R&D]