Soundmatters announces the foxLv2 aptX hi-fi portable Bluetooth speakers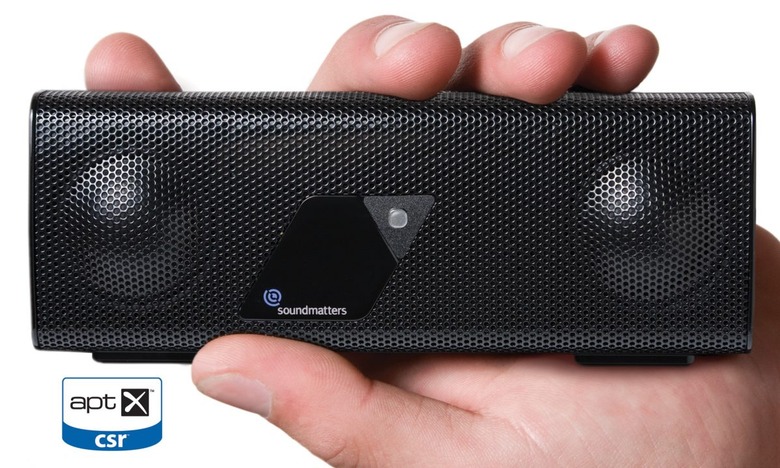 Soundmatters has announced the foxLv2 aptX, an entry level Bluetooth portable speaker device. This hi-fi unit features aptX Bluetooth technology, which allows users to enjoy CD-quality audio, and provides better syncing when used with video feeds, such as gaming or TV. The foxLv2 aptX is available now from various retailers, including Amazon and Best Buy, for $199.
Touted as a portable speaker "that audio purists love," the foxLv2 aptX offers several features, including BassBattery, DomeForward, and Twoofers. Other features that don't include corny names include an integrated noise-cancelling microphone and the ability to charge and play simultaneously. This comes from a device that measures in at 2.2-inches high x 1.4-inches deep x 5.6-inches wide.
The BassBattery feature transforms the battery into a woofer, which produces deep, smooth bass. The dual 1-inch Linear Magnetic Drive Twoofers, meanwhile, provide high-end range and clarity. Rounding it out is the DomeForward feature, which produces an "open and airy listening experience" via an acoustic grill and driver alignment.
The foxLv2 aptX has rechargeable batteries that provide up to 12 hours of playback time. Both an AC adapter and a USB cable can be used to charge the unit; the bundle includes four international charging adapters for use in the US, Japan, China, Australia, New Zealand, Europe, Hong Kong, and the UK. If you don't want Bluetooth, you can pick up a wired version for $149.