SoundClip is a passive Iphone amplifier, only $8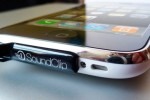 TenonDesign has a $8.00 gimmick promises to give your iPhone 3G a little boost in sound department, and how's that work? The SoundClip, according to the manufacturer, is a passive sound enchancer, makes out of a much cheaper plastic material to cut cost, fabricates to a tuned conical deflection chamber that directs sound from iPhone toward you.
Along the way, it intensify your iPhone audio by 10dB with signal in between 6kHz and 20kHz, but that's not all for $8 buck a pop goody. Iphone gaming in landscape mode proven to be difficult on the sound output, as you hands are blocking the ports while engaging in the game, having the Soundclip in place would prevent such incident. Interested? It's only $8, and you can get one now from the web site here.