Sony's new SF-G memory cards claimed to be world's fastest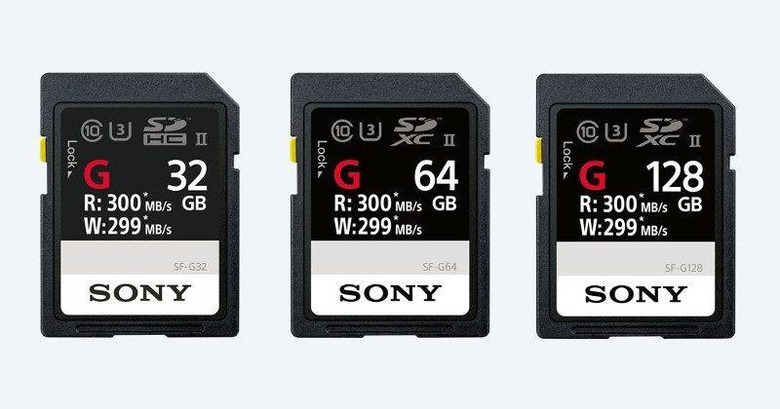 We are living in a 4K age, with TVs, monitors, and even some smartphones capable of display such high-resolution content and cameras, and, yes, smartphones being able to create hi-res images and videos. The bottleneck, however, is the intermediate holding place for 4K content captured by cameras. In other words, memory cards. While handy and compact, SD cards aren't exactly the fastest storage medium around, but they're the only ones you can use with digital cameras. Well, worry no more, because Sony has just announced its new SF-G line of SDXC cards which it boasts is the world's fastest memory card.
These are the raw numbers that Sony is giving out. For read operations, an SF-G card can process data at a rate of 300 MB/s, which, truth be told, isn't exactly extraordinary compared to other "ultra fast" memory cards already in the market. Writing data, however, is always a slower process than reading and this is where the Sony SF-G shines. At least on paper. It can write data at a rate of 299 MB/s, just an MB/s short of its reading speed. Common Class 10 UHS-I cards max out at 80 MB/s, though there are a rare few that reaches 260 MB/s.
Those impressive numbers aren't there just for the sake of boasting, of course. In practice, this means that digital cameras won't be slowed down by the slow writing speeds of SD cards. Unlike smartphones that have fast internal storage, digital cameras have to write directly to SD cards. So some functionality, like continuous burst shots, is limited by the write speeds of memory card. There's also the fact that capturing more data, like 4K images and video, require higher performance and higher capacity memory as well.
That's all and good when it comes to the camera, but SD card readers, especially those built into computers, are notoriously slow at their job. That is why Sony is also making available an MRW-S1 card reader designed specifically to support the fast read/write feature of the SF-G series. It uses a standard USB 3.1 connection the fastest transfer speeds from card to PC.
Sony hasn't disclosed prices yet but the SF-G cards, available in 32, 64, and 128 GB capacities, will land in stores starting March, while the MRW-S1 card reader will come later in April.
SOURCE: Sony