Sony's Flex OLED Walkman concept shows up on video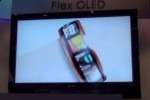 The concept videos for Sony's flexible OLED Walkman were apparently playing somewhere in the booth, and luckily for us, the folks over at Sony Insider caught some footage of it and uploaded it for the world to see.  Interested in seeing what could very well be the future of portable music players?  Watch the video after the jump.
Just watching this video leaves me in awe.  Could we really be wearing our music – or perhaps, all of our information – on our wrist like a bracelet someday?  Only time will tell.  I do know this – my iPod just doesn't seem that cool now that I've watched this video.