Sony Z Series 4K TVs launch with ultra-contrast and HDR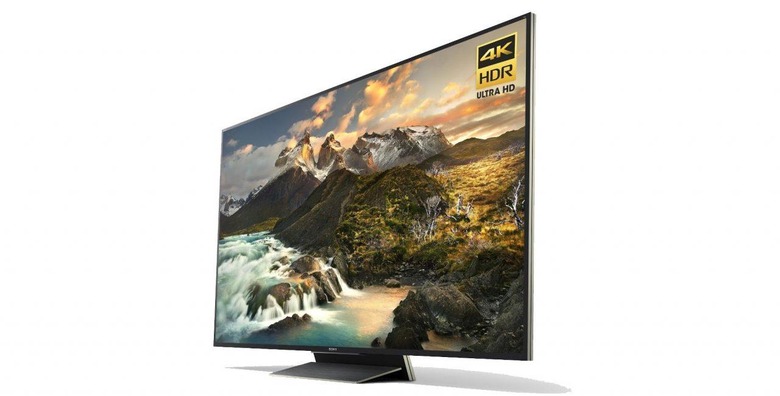 Sony has taken the wraps off its new line of premium 4K-resolution televisions, the Z Series. This line, which is currently comprised of three models ranging from 65-inches to 100-inches, offers high-contrast and High Dynamic Range image quality in an Ultra HD resolution, as well as thin bezels, Backlight Master Drive technology, the 4K Processor X1 Extreme, and more. Two of the three new models are available for preorder now and will be launching some time this summer.
One of the most notable features found in the Z Series is the new algorithm used with the Backlight Master Drive, which adjusts the brightness of individual LEDs to offer more precise contrast and image quality. The Z Series TVs, says Sony, bring with them a "calibrated beam LED design" that focuses light onto specific spots for higher picture contrast, as well.
The TVs also have a trio of new technologies thanks to the new processor: Super Bit Mapping, HDR remaster that is object-based, and dual-database processing. The HDR remaster feature performs an analysis of every video scene and adjusts the contrast and colors for objects within that scene; if the content is less-than-UHD, it'll also upscale it to UHD resolution. That's where the dual-database processing tech comes in, stripping away noise and issues that can result in upscaled content.
The Z Series is comprised of the XBR65Z9D, a 65-inch model priced at $6,999 USD; the XBR75Z9D, a 75-inch model priced at $9,999 USD; and the XBR100Z9D, a 100-inch model with a price tag and availability that won't be announced until some time later on in 2016. Preorders for the two smaller models are currently available at Best Buy, Amazon, and Sony's dealers.