Sony Xperia Z5 has top camera chops, says Strategy Analytics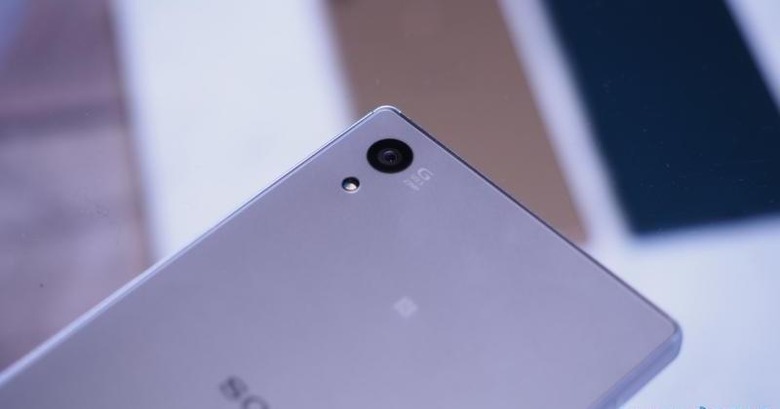 Sony's latest flagship is out and if you've been following news about is previous "half" flagship, then you'd understand why a great many eyes are on it. To make it short, it has a lot to prove in the Xperia Z5 and its Compact and Premium versions. Sony, however, seems to be content on underlining just one key feature: its camera sensor. With the help of Strategy Analytics, it has weighed the Xperia Z5 against this year's top selling smartphones. Unsurprisingly, it comes out as the king of the hill.
According to Strategy Analytics figures, the Xperia Z5 trio has the highest megapixel sensor in the market at 23 megapixels. That much is a fact but one that has some caveat. It excludes the Nokia Lumia 1020's 41 megapixel camera for the sheer reason that it is not part of the top 100 smartphones of the year. It probably didn't account for the new BLU Pure XL as well, which boasts of a 24 megapixel camera sensor, considering it just came out yesterday and can't exactly be considered part of the top 100. At least not yet.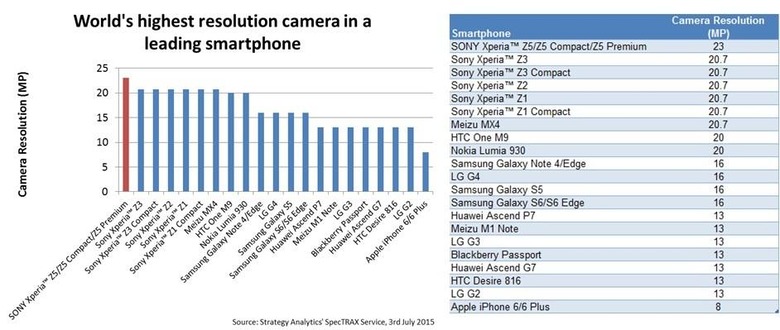 The research also puts the Xperia Z5 at the top when it comes to ISO levels, boasting of a 12800 number. Again, this has to be qualified. Sony admits that there are some smartphones in its home country of Japan that have cameras with ISO 25600, but, again, they don't fall within the top 100 of 2015 and therefore do not count.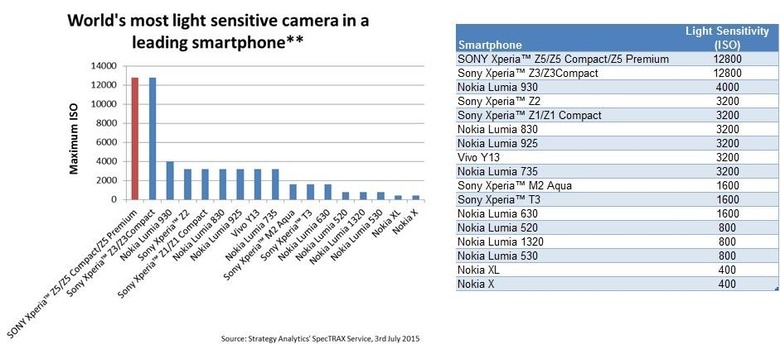 The above are based on hardware and raw numbers. Indisputable facts with some qualifications. From there, Sony and Strategy Analytics delve into less objective evaluation. Relying on the blind assessments of 200 UK consumers, the market research company pitted the Xperia Z5 and Xperia Z5 Compact against the iPhone 6 and 6 Plus, the HTC One M9, the LG G4, the Samsung Galaxy Note 4 and Galaxy S6, considered to be the top in the market when it came to camera performance. It probably shouldn't come as a shock that Sony's two smartphone always come at the top, whether it is for still photos or video recording, in criteria like image quality and autofocus speed.
Given Sony's leading technology in camera sensors, there is perhaps little doubt that it could really pull these numbers off, though there is perhaps going to be some question on the objectivity of Strategy Analytics' study, which couldn't have been done without Sony's help (since they'd need access to pre-release models). With a lot hanging in the balance for Sony's mobile smartphones, these figures better match the assessment of reviewers and other industry experts, like DxOMark, for example.
SOURCE: Sony