Sony Vaio P catches some flack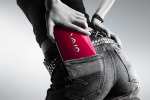 One of Sony's favorite things to say about the Vaio P is that it can fit in your pocket.  The prospect of having such a small device intrigued many people and made the Vaio P highly anticipated going into CES.  Good news?  The Vaio P seems like a great device.  Bad news?  It barely fits in your pocket, and Sony is paying the price.
Check out the gallery below for a few more photos, and keep it tuned to SlashGear for the latest on all the devices covered at CES 2009.
[via CrunchGear]