Sony RX1 digital camera leaks rocking full-frame sensor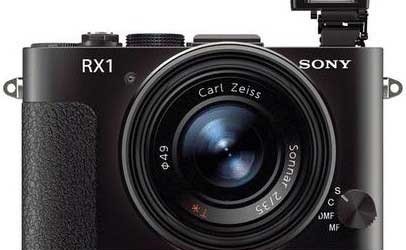 A new Sony digital camera called the RX1 has leaked that has some interesting features. The feature that will probably appeal to photographers the most is the fact that the camera has a full-frame sensor. The most interesting thing about the camera sporting a full-frame sensor is that from the photographs it appears that the camera is very small and pocketable.
It's unusual to find a full-frame sensor in compact camera, and that sensor should mean this compact Sony camera has image quality on par with Sony's high-end DSLRs. These images and details aren't official from Sony just yet, this camera and the few details we know were leaked. The camera is equipped with a large 35mm f/2.0 lens rocking Carl Zeiss optics.
The most interesting thing about that lens is that there is no apparent lens release button on the camera. That leads to speculation that this may be a fixed lens camera rather than a camera with interchangeable lenses. Other details gleaned from images show a toggle for macro focus and controls for aperture and exposure compensation.
The camera features a pop-up flash and has a hot shoe for accessories along with a dial for three custom settings. Speculation says this camera could cost as much as Sony's other high-end cameras featuring a full-frame sensor at around $3000. It's hard to imagine a compact camera lacking interchangeable lenses selling for that much money.
[via Engadget]