Sony teases new work in progress 20.5-inch OLED display for medical use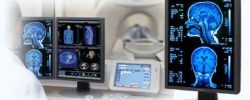 Sony was the first company on the market with a OLED TV in 2009. The problem with the TV was that it had a very small screen at 11-inches and a very big price tag. The TV was only on the market for a few years before Sony stopped producing it partly because of poor sales.
Despite Sony's first retail OLED product being discontinued, Sony has still been working on OLED technology. Sony's medical systems division has recently teased a new OLED display that is a work in progress. Sony is specific in noting that the 20.5-inch OLED display is not available for sale in the United States.
The display isn't available anywhere else for that matter. Sony is offering some details on the monitor other than noting it has a 20.5-inch screen. The display uses a monochrome organic light emitting diode panel. The display is monochrome because it aimed at medical imaging such as x-rays and other procedures where color isn't as important as high resolution and contrast.
The display has a resolution of 2048 x 2560 and promises exceptionally high contrast and deep, rich black reproduction. Sony says that the black level for the display is less than 0.001 cd/M² and 500cd/M². All of the specifications offered are preliminary. Sony will show off its new 20.5-inch display at the Radiological Society of North America meeting in Chicago later this month. There is no indication of when this display might come to market.